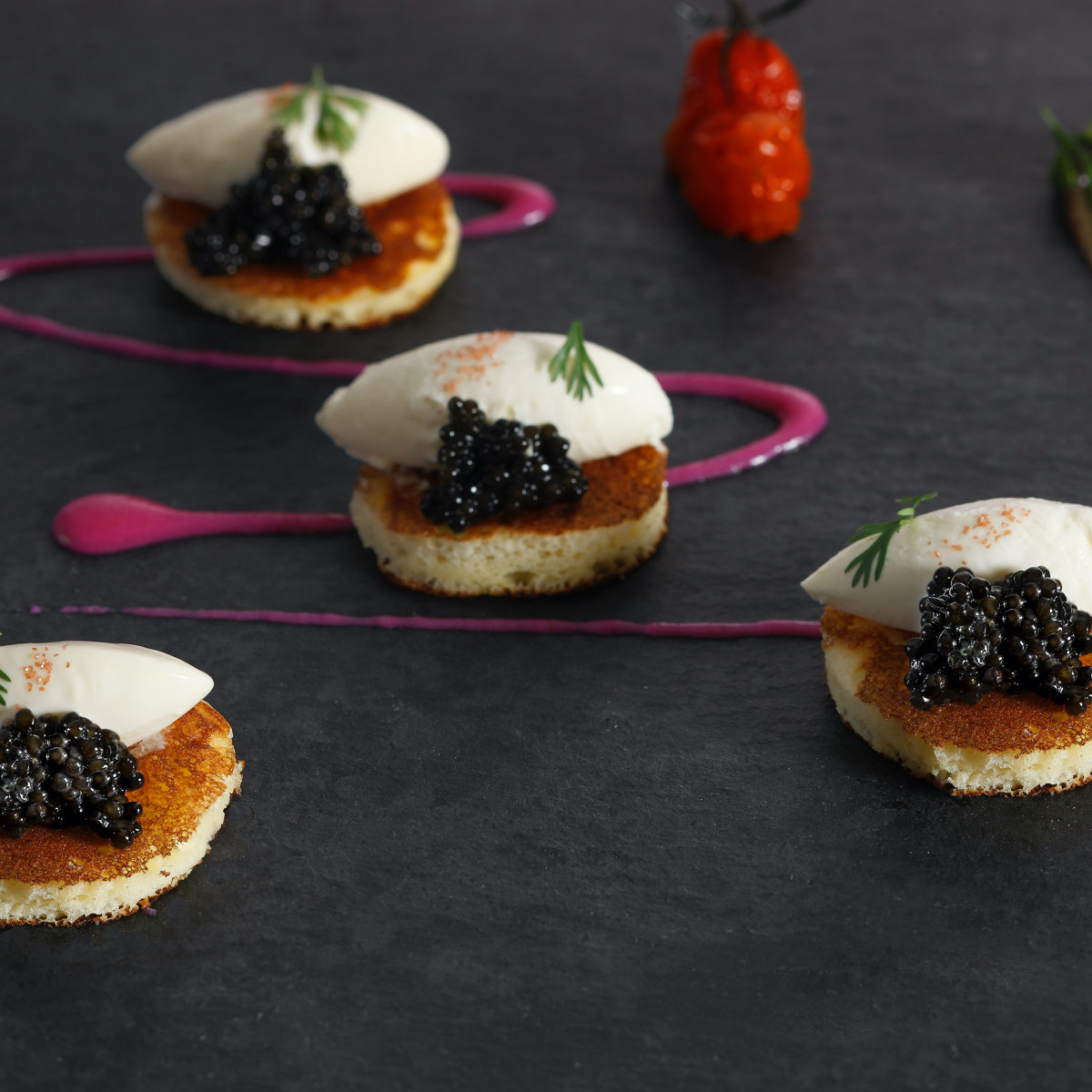 Blinis, sour cream, smoked eggplant cream and caviar
Dish

Starter or aperitif

Caviar
---
What tasty way to accompany Oscietra Classic caviar than with blinis? Delicious, small-sized, rather soft, savory pancakes accompanied by an irresistible eggplant cream.
Ingredients
2 eggplants
Evo oil
Salt as needed
Pepper as needed
50 g Oscietra Classic caviar
40 g sugar
Sour cream
250 g milk
20 g brewer's yeast
350 ml milk
400 g flour
3 eggs
150 g melted butter
15 g salt
Method
For the first mix, combine the milk with the yeast. For the second mix, combine the milk with the flour, salt, eggs, and melted butter.
Combine the first dough with the second one, and let it rise for at least another half hour.
Finally, beat the egg whites until stiff with the sugar.
Let rise for another hour, and then bake the crepes in a nonstick pan.
Prepare the sour cream with the whipping cream and lemon juice, mixing well together. Let stand in the refrigerator for 4 hours.
Using a very hot pan, roast the eggplant well over the entire skin surface so that it acquires a smoky flavor.
Finally, using a spoon, separate the eggplant pulp and blend it, season with evo oil, salt, pepper, and some of the roasted eggplant peel.
Plate and garnish with Caviar Giaveri's Oscietra Classic caviar.
---
Discover more recipes
Savor caviar with our recipes featuring it.