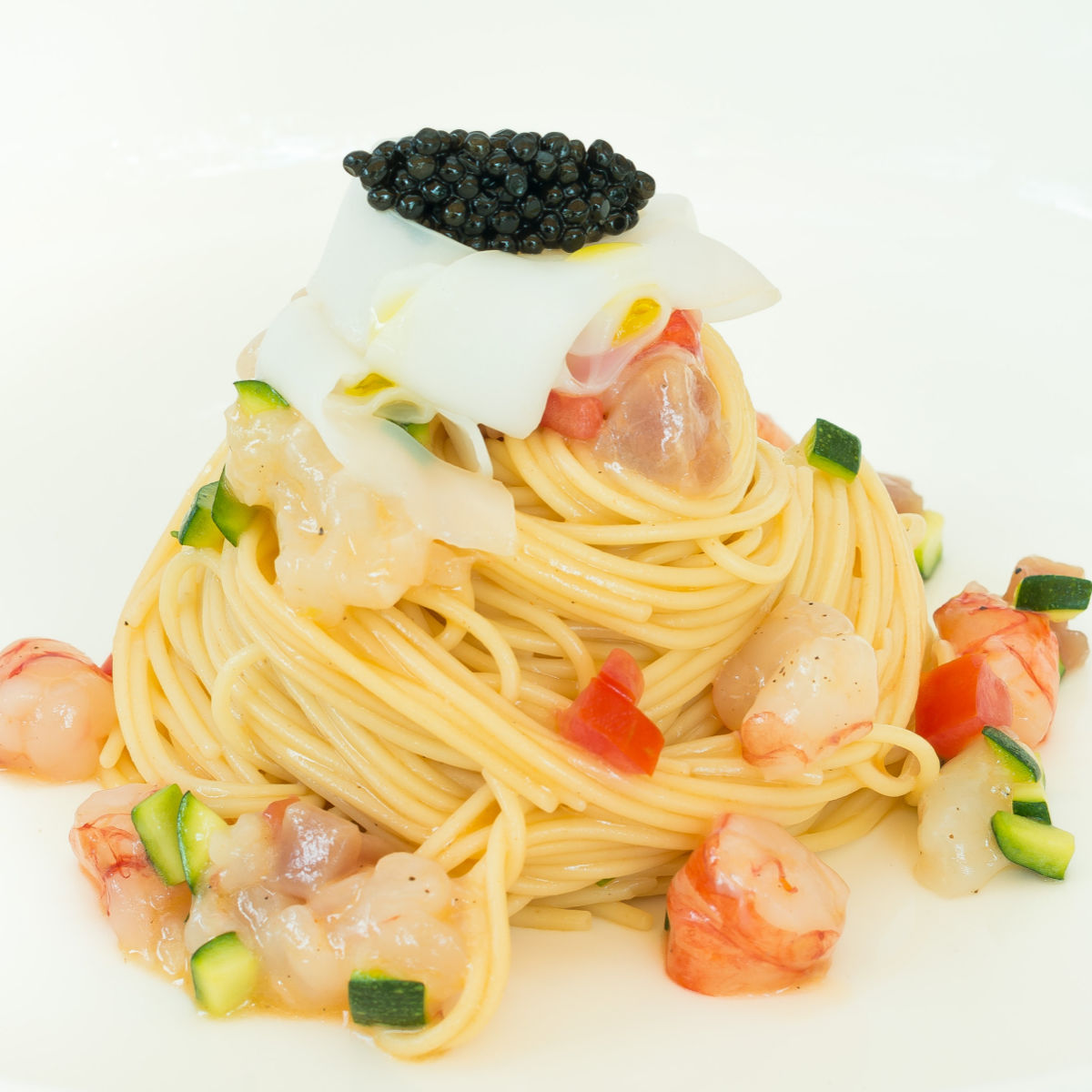 Cold spaghetti with raw fish and caviar
Dish

First course

Caviar

Chef

Waldemarro Leonetti
---

An explosion of freshness frames this preparation. The light, al dente spaghetti gently twists with the raw fish tartare and vegetable brunoise, creating a symphony of freshness and flavor. White Sturgeon Deluxe caviar, with its pearly texture and unmistakable flavor, crowns the dish.
Ingredienti
For 2 people
300 g thin spaghetti
1 cuttlefish
70 g red tuna
8 shrimp tails
8 fresh langoustine tails
2 San Marzano cherry tomatoes
1 medium zucchini
White Sturgeon Deluxe caviar
Clam water (optional)
Evo oil
Salt as needed
Pepper as needed
Method
Fish preparation
Clean the fish (previously blast chilled in the freezer for at least 24 hours) and shellfish, dice, season with evo oil salt and pepper.
Cut the cuttlefish into very thin strips and season.
Cook the spaghetti for about 3 minutes in boiling salted water, drain the pasta while still very al dente (cooking will continue as it cools), pour it into the bowl with the vegetables and stir.
Place the pasta in the refrigerator or blast chiller until completely cooled. When the pasta is cool, add the fish, shellfish, stir, serve on a plate and add the cuttlefish slices.
Garnish with plenty of caviar.
---
Discover more recipes
Savor caviar with our recipes featuring it.