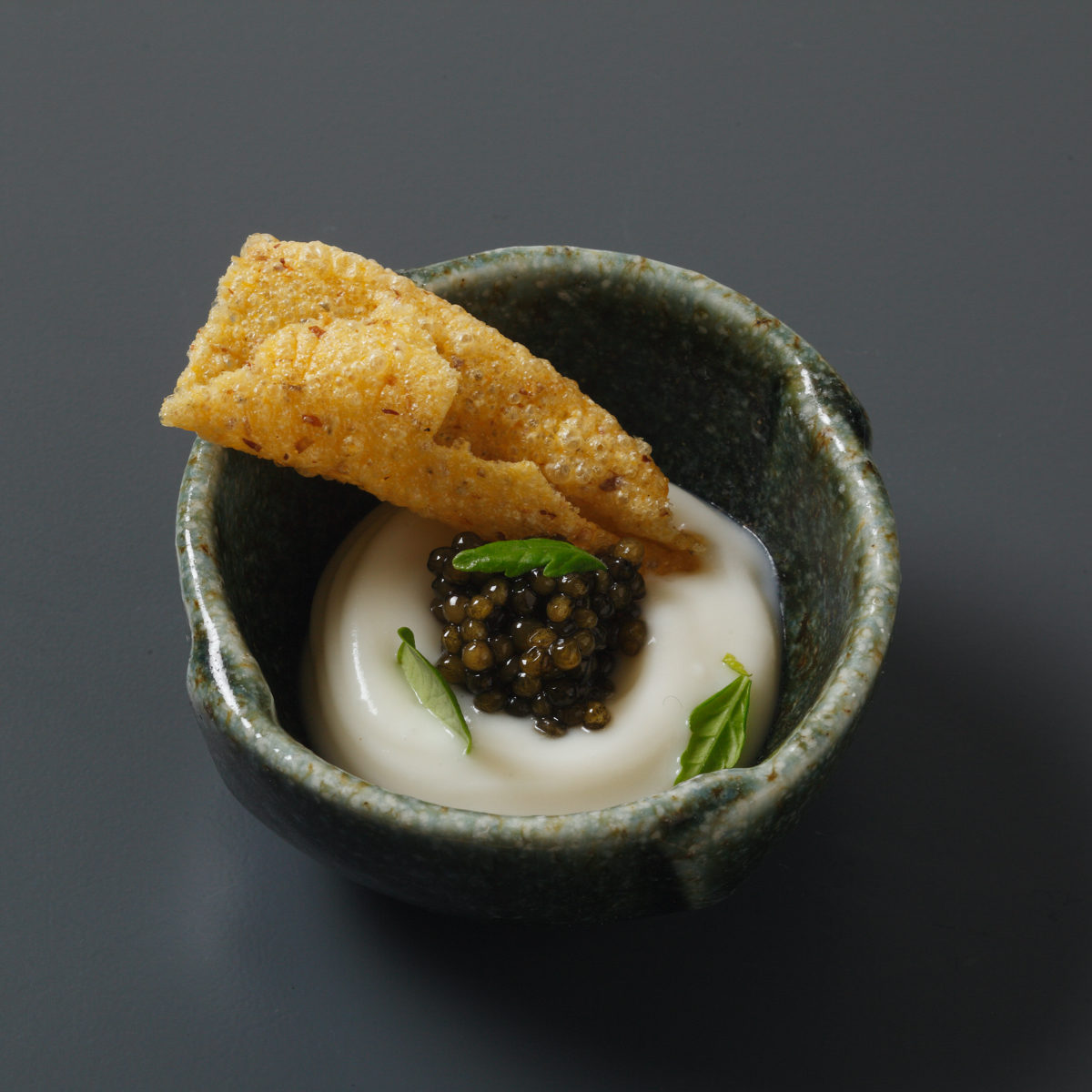 Finger food: caviar and creativity
Dish

Aperitif

Caviar
---
For a classy aperitif, a casual dinner, or an exclusive party. Entertain your guests with delicious and delicate finger food to enjoy with your hands and a glass of fine Italian or French sparkling wines.
Ingredients
Blinis
Sour cream
Bread croutons
Potatoes
Parsley
Tomatoes
Beluga Siberian Caviar
Siberian Classic Caviar
Casatella cheese mousse
Crispy polenta
Avocado
Shallot
Method
Bread croutons with potato quenelle, sour cream and Beluga Siberian caviar
Boil the potatoes in lightly salted water until tender, for about 15-20 minutes over medium heat.
Allow to slightly cool.
Finely chop the parsley.
Mash the potatoes in a bowl and add the parsley. Using a spoon, shape into quenelles.
Lay the potato quenelles on the bread croutons and garnish with a basil leaf.
Place a small amount of sour cream on top of each crouton.
Cut the cherry tomatoes in half and cook in a pan with a drizzle of evo oil until they become soft and begin to candy.
Place the cherry tomatoes next to the sour cream and finally garnish with Beluga Siberian caviar.
Crisp bread, avocado mousse and Siberian Classic caviar
To prepare the avocado mousse
Begin by peeling the avocado, removing the pit and placing the pulp in a bowl.
Mash the pulp with a fork or immersion blender to make it smooth and creamy. Add a drizzle of evo oil and a pinch of salt or pepper for flavor.
Preheat the oven to 180°C. Cut the bread into thin slices and brush with evo oil.
Arrange the bread slices on a baking sheet previously lined with baking paper. Bake for 5 to 7 minutes or until golden brown and crispy.
In a bowl place the avocado cream, crispy bread, and garnish with Siberian Classic caviar.
Casatella cheese mousse, crispy polenta and caviar
To prepare the casatella mousse
Cut the casatella into small pieces.
Place the chunks in a blender or mixer and run on full power.
Blend the casatella until it becomes a smooth, homogeneous cream. Season with salt to taste.
Transfer the mousse to a pastry bag and refrigerate.
To prepare the polenta
Prepare the precooked polenta according to the directions on the package.
Once ready, pour the polenta onto a baking sheet lined with baking paper, creating an even 1 cm thick layer. Allow the polenta to cool until firm.
Once cool, cut the polenta into strips about 4 cm long.
In a nonstick pan, heat some evo oil over medium-high heat. Cook the polenta slices on both sides until golden brown and crispy.
In a small bowl, using a piping bag, lay the casatella mousse, crispy polenta and Siberian Classic caviar.
Blinis, sour cream mousse, Beluga Siberian caviar
For the sour cream mousse
Whip the sour cream with a mixer until light and fluffy.
Arrange the blinis on a platter or serving plate, top with a quenelle of sour cream and garnish with Beluga Siberian caviar.
---
Discover more recipes
Savor caviar with our recipes featuring it.