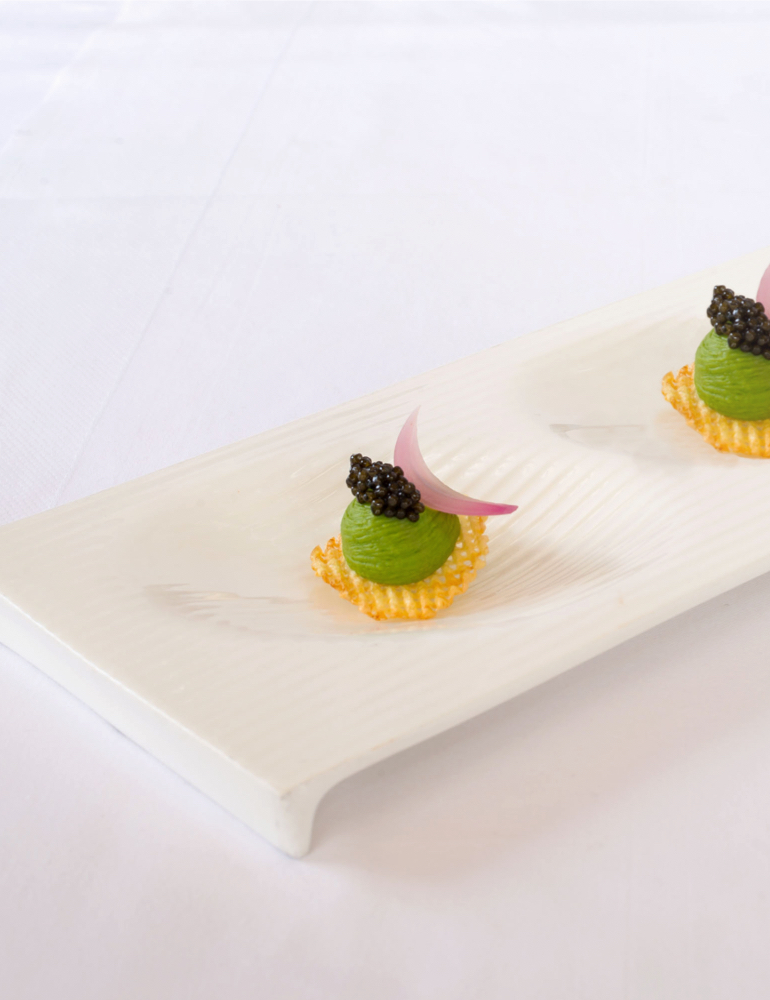 Fried potato chips, pea mousse, shallots and caviar
Dish

Starter

Caviar

Chef

Waldemarro Leonetti
---
These crispy fried potato chips accompanied by a delicate and fresh pea mousse dance in perfect harmony with the savory contrast of Baerii Heritage caviar. A dining experience that will satisfy your senses and leave you craving every bite.
Ingredients
15 g per person Baerii Heritage caviar
For the potato chips
4 medium-sized potatoes
Fine salt as needed
Peanut seed oil as needed
For the pea mousse
1 tablespoon of evo oil
100 g fresh or frozen peas (defrosted before use)
1/2 packet of saffron
Salt
Flower pepper
60 g fresh cheese
0.5 ml whole cream
1 shallot
Sugar as needed
Apple vinegar as needed
Method
For the potato chips
Wash the potatoes, dry them and, without peeling them, cut them very finely (just under 1mm) with the help of a mandoline.
Dab the slices one by one with a clean dish towel (or paper towels).
Pour plenty of peanut oil into a frying pan and, when it has reached the maximum temperature of 160° C, dip the potato slices (a few at a time). As soon as they have finished sizzling and have turned golden, quickly remove them from the oil with a skimmer, letting them drain and lay them on a tray lined with kitchen paper. Then salt them.
Arrange the potato chips well spread out, trying not to overlap them, so that the excess oil is absorbed by the paper.
For the pea mousse
Finely chop the onion and gently sauté it in oil. Add the peas and cook them slightly. Season as desired with saffron.
Season with salt and pepper. Set aside half of the peas and blend the rest with an immersion blender. Mix the puree with the cream cheese.
Whip the cream well and incorporate it into the mousse with half the peas set aside. Season as needed with salt and pepper. Refrigerate for about 30 minutes.
Blanch the shallots and cut them into fine rounds. Soak them in water, sugar and apple cider vinegar.
Once all elements have cooled, serve the potato chips garnishing with the pea mousse, sweet and sour shallots and Baerii Heritage caviar.
---
Discover more recipes
Savor caviar with our recipes featuring it.