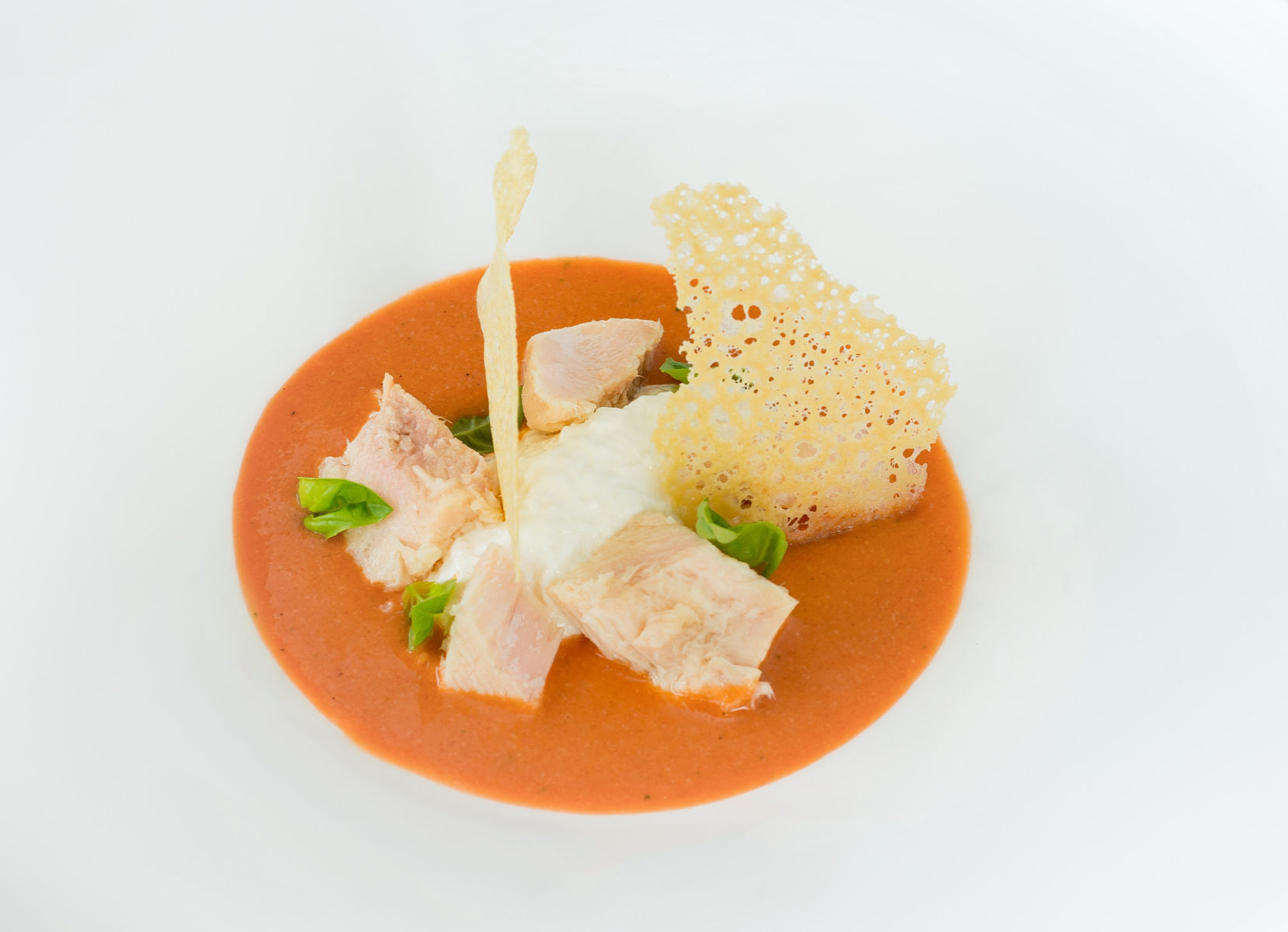 Gazpacho with burrata, Oscietra sturgeon in olive oil and parmesan waffles
Dish

Starter or second course

Caviar

Chef

Waldemarro Leonetti
---
A modern take on the traditional Andalusian gazpacho. Quick to prepare, with the freshest and most sought-after flavor thanks to the fine filets of Oscietra sturgeon. It will win your taste buds with every bite.
Ingredients
For 4 people
160 g Parmigiano Reggiano DOP
Burrata
Osietra sturgeon filets
600 g round vine tomatoes
1 tomato
100 g red peppers
50 g green peppers
60 g cucumbers
1/2 cucumber
60 g red onion
150 g stale bread crumbs
2 tablespoons vinegar
3 tablespoons of evo oil
1 clove of garlic
Salt as needed
Pepper as needed
Method
Soften the bread with about 1 cup of water and the vinegar.
Wash all the vegetables, chop them and place them in a blender along with salt, pepper, oil and garlic.
Add the breadcrumbs and run the blender again.
Pass everything through a sieve, mashing well to get all the puree.
Place the soup back in the refrigerator where it should chill for at least 2 h.
In the meantime, cut the bread into small pieces, saute it in a pan with a drizzle of oil for 1 minute on each side and until they are golden brown.
Finally, chop all the vegetables and hard-boiled eggs to accompany.
Serve the gazpacho cold from the refrigerator.
It will keep perfectly for 4 to 5 days in the refrigerator. You can season it freshly with vegetables and croutons. Also perfect for freezing.
To prepare the parmesan waffles
Cut strips of baking paper and cut out 6 squares about 25 cm. Place a generous spoonful of parmesan cheese in the center of each.
Using the back of a spoon, spread the cheese to form a circle 18-20 cm in diameter.
Place each sheet in the microwave oven for a few seconds, on full power, until the parmesan begins to melt.
Alternatively, you can use the conventional oven: bake at 180° C for a few minutes and until the edges of the waffles begin to turn an amber color.
It is recommended that you consume the parmesan waffles at the moment to avoid compromising the crispiness.
Plate the cold gazpacho, add the burrata flakes and Oscietra sturgeon in olive oil, and garnish with the parmesan wafers. Decorate with basil as desired.
---
Discover more recipes
Savor caviar with our recipes featuring it.