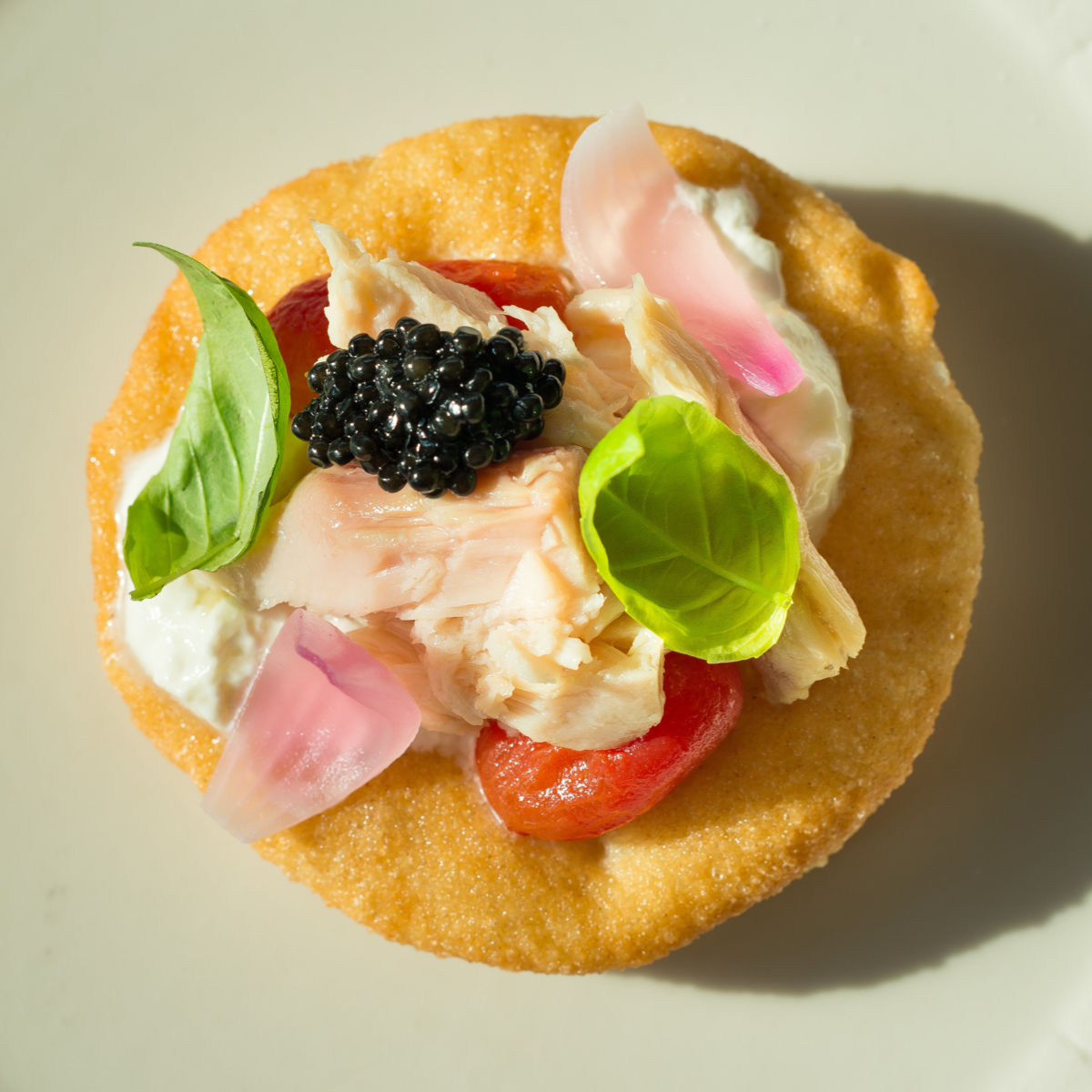 Gourmet fried pizza with sturgeon and caviar
Dish

First course

Caviar

Chef

Waldemarro Leonetti
---
A classic dough that, in this recipe, is transformed into a fried pizza, crispy, golden and fluffy on the inside, filled with out-of-the-ordinary ingredients: burrata, sturgeon filets, onion petals and White Sturgeon Deluxe caviar for an intriguing flavor combination.
Ingredients
For 4 pizzas
250 g White Sturgeon in olive oil
15 g per person White Sturgeon Deluxe caviar
500 g manitoba flour
320 g water
2 g dry brewer's yeast
Fine salt as needed
1 red tropea onion
Apple vinegar as needed
Cherry tomatoes as needed
Sugar as needed
2 burrata cheese
Basil leaves
Evo oil
Method
For the fried pizza
Pour the sifted flour and dry brewer's yeast (as an alternative to dry brewer's yeast, you may use 7 g of fresh brewer's yeast) into a planetary mixer fitted with a hook.
Add 1/4 of the water taken from the total dose and start the mixer.
Continue adding water a little at a time while the mixer is running, being sure to wait until the liquid is gradually well absorbed before adding more.
Once 3/4 of the total amount of water has been poured in, add the salt, always continuing to knead.
Add the remaining water and allow it to work until the dough is hooked on the mixer, so that it is smooth and homogeneous.
Take the dough out of the planetary mixer with the help of a dough cutter and place it on a lightly floured surface.
Roll it out lightly with your hands, folding the flaps toward the center. Fold the loaf back on itself to give it a spherical shape.
Transfer the dough inside a large bowl, cover with plastic wrap and let rise in the oven off with the light on, at a temperature of 25-28° C, until it has tripled in volume. This will take about 3 hours.
After this time, form a loaf and divide it with a dough cutter into 4 equal parts, about 220 g each, and form into balls.
Now place the balls in a tray well apart from each other, covering them with unrolled plastic wrap (otherwise the dough will not develop) and let rise for another 3 hours, always in a turned-off oven with the light on.
After the 3-hour rising time, take the dough balls and roll them out with your hands on a lightly floured pastry board, creating an irregular circular disk about 10 to 15 cm in diameter.
Set the evo oil to heat in a high-sided pan. For optimal frying it should reach 170° C. Insert a food thermometer to best monitor the temperature. Dip one pizza at a time.
Drain the pizza with a skimmer and lay it on paper towels to dry excess oil.
For the confit cherry tomatoes
Wash the cherry tomatoes thoroughly and cut them in two. Then arrange them on a baking sheet previously greased with a drizzle of oil, arrange the cut side upward. Sprinkle with sugar and salt.
Transfer to preheated oven at 70° C and bake in fan mode for 4 hours.
Blanch the previously finely sliced onion in sugar water and apple cider vinegar.
Plate as desired by garnishing the fried pizza with burrata, confit tomatoes, White Sturgeon in oil, and White Sturgeon Deluxe caviar.
---
Discover more recipes
Savor caviar with our recipes featuring it.