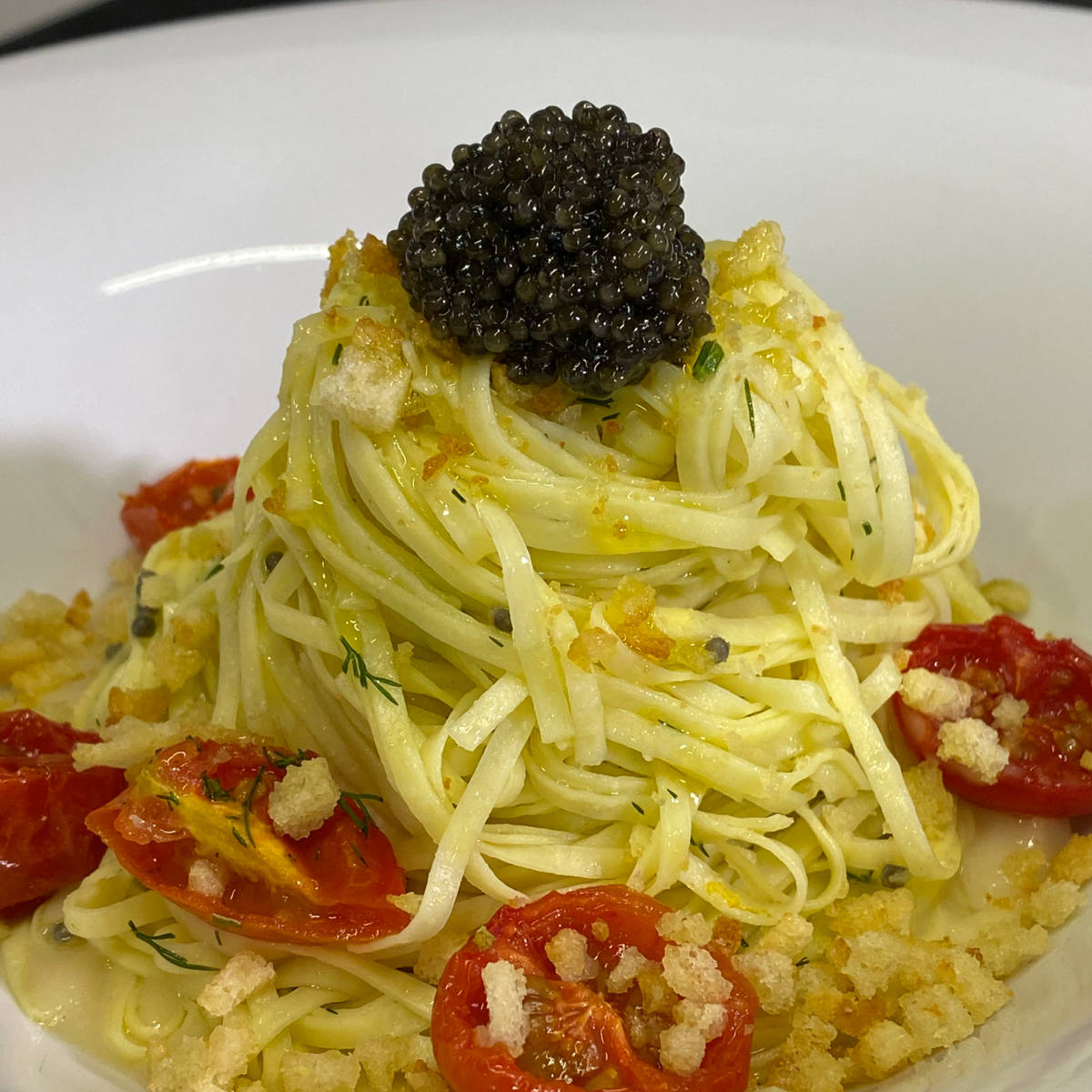 Lemon flavored egg tagliolini with Sevruga caviar
Dish

First course

Caviar

Chef

David Perissinotto
---

A sophisticated first course, to show off on important occasions, but also for a romantic dinner that spoils the palate. Our prized Sevruga Imperial caviar completes the dish with distinguishable notes that well meet the freshness of lemon and fennel and the sweetness of the tomato.
Ingredients
For the bread cream
White bread
Vegetable broth
Shallot
Rosemary
White wine
Evo oil
For the crisp bread
Grated zest of 1 lemon
Evo oil
Garlic
For the tagliolini
Egg tagliolini
Olive oil
Grated zest of 1 lemon
Wild fennel
Garlic
Topping
Cherry tomatoes
Caster sugar as needed
Salt as needed
Pepper as needed
Oregano as needed
Sevruga Imperial Caviar
Method
For the Bread Sauce: dice half a loaf of bread and toast it in the oven. Brown shallots cut into flanges with oil and thyme. Add the bread, deglaze with white wine and wet with chicken broth. When cooked, whisk it all together and pass it through a fine strainer.
For the crispy flavored bread: take the other half of bread, cut it into very small cubes, toast it in a nonstick pan with a little oil and garlic, keeping it stirred. When the bread starts to brown, remove it from the heat, and grate some lemon peel on top.
For the caramelized cherry tomatoes: cut the cherry tomatoes in half, place them on a baking sheet, sprinkle the cut side with sugar, a pinch of salt, ground pepper, oregano and evo oil. Bake at 110° C for 1 hour 20 minutes.
Cook the tagliolini in plenty of salted water. One minute before they finish cooking, transfer them to a nonstick pan where evo oil has previously been warmed.
Add a dash of garlic, caramelized cherry tomatoes, wild fennel, and a teaspoon of Sevruga caviar.
Drizzle with evo oil and organic lemon zest. Arrange on a plate by placing the bread cream, lay the noodles on top, the caramelized cherry tomatoes, the flavored bread, and finally a generous spoonful of Giaveri's Osietra Caviar.
---
Discover more recipes
Savor caviar with our recipes featuring it.