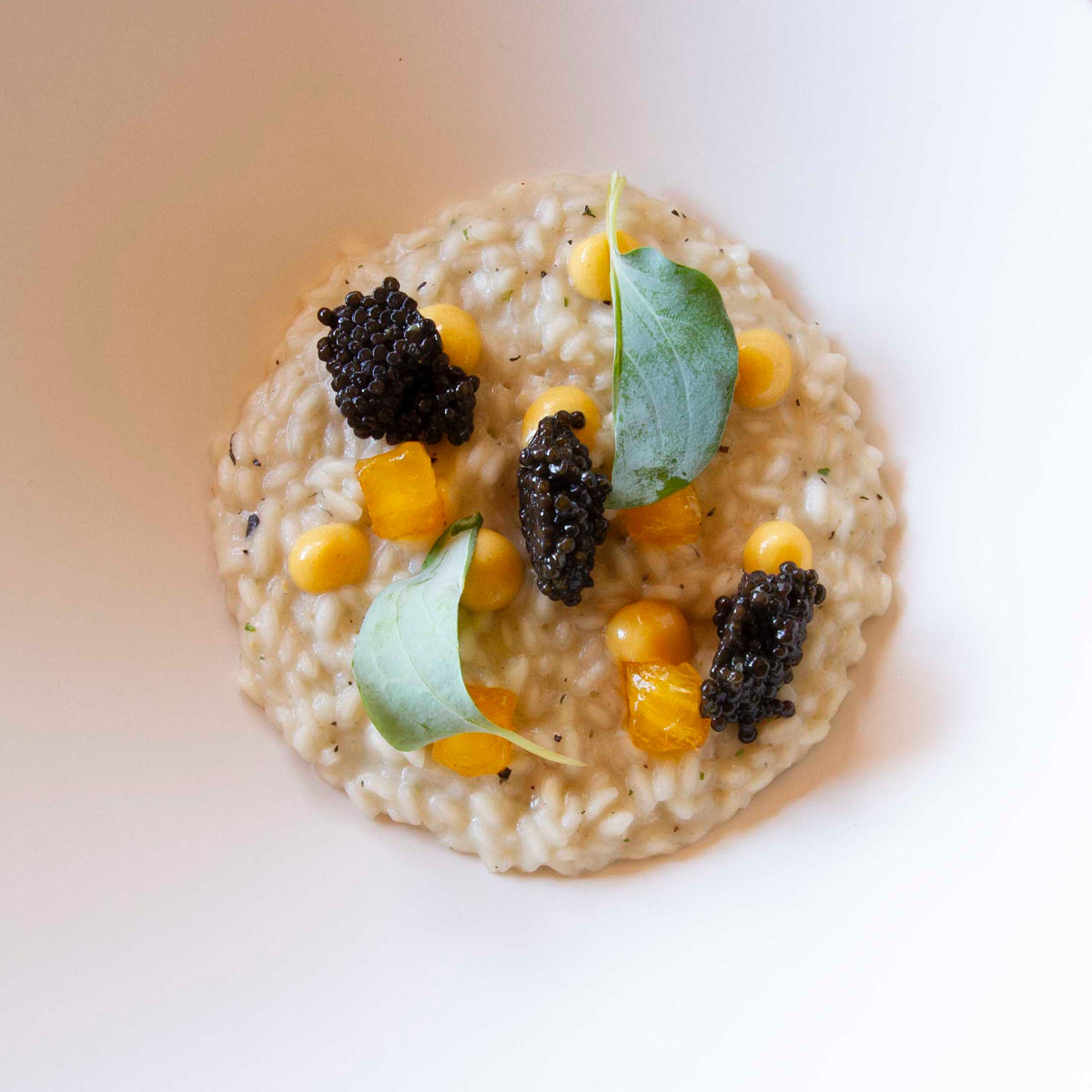 Mountain herb risotto, persimmon, oyster leaf and Beluga caviar
Dish

First course

Caviar

Chef

Waldemarro Leonetti
---
A harmonious symphony of natural ingredients comes together in this risotto. A unique gastronomic combination that celebrates the freshness of mountain herbs, the sweetness of persimmons, the delicacy of oyster leaves, and the elegance of Beluga Siberian caviar.
Ingredients
For 4 people
15 g per person Beluga Siberian caviar
320 g Carnaroli rice
1 glass of white wine
Aromatic herbs as needed (thyme, wild fennel, mint, chives)
4 oyster leaves
750 ml vegetable broth
50 g butter
Lemon juice as needed
Evo oil
Salt as needed
For the persimmon gel
2 ripe persimmons (about 300 g pulp)
Juice of half a lemon (if desired, also add pectin/ agar agar if you want a firmer consistency)
Method
Toast the rice in a pan for a few minutes with evo oil, deglaze with white wine, and then cook with vegetable broth.
Meanwhile, prepare whipped butter with chopped thyme, lemon, wild fennel, mint and chives.
Blend persimmon pulp with lemon juice to obtain a gel.
When cooked, cream the rice with the flavored butter and garnish the dish with caviar, persimmon gel, diced pulp, and oyster leaves.
---
Discover more recipes
Savor caviar with our recipes featuring it.