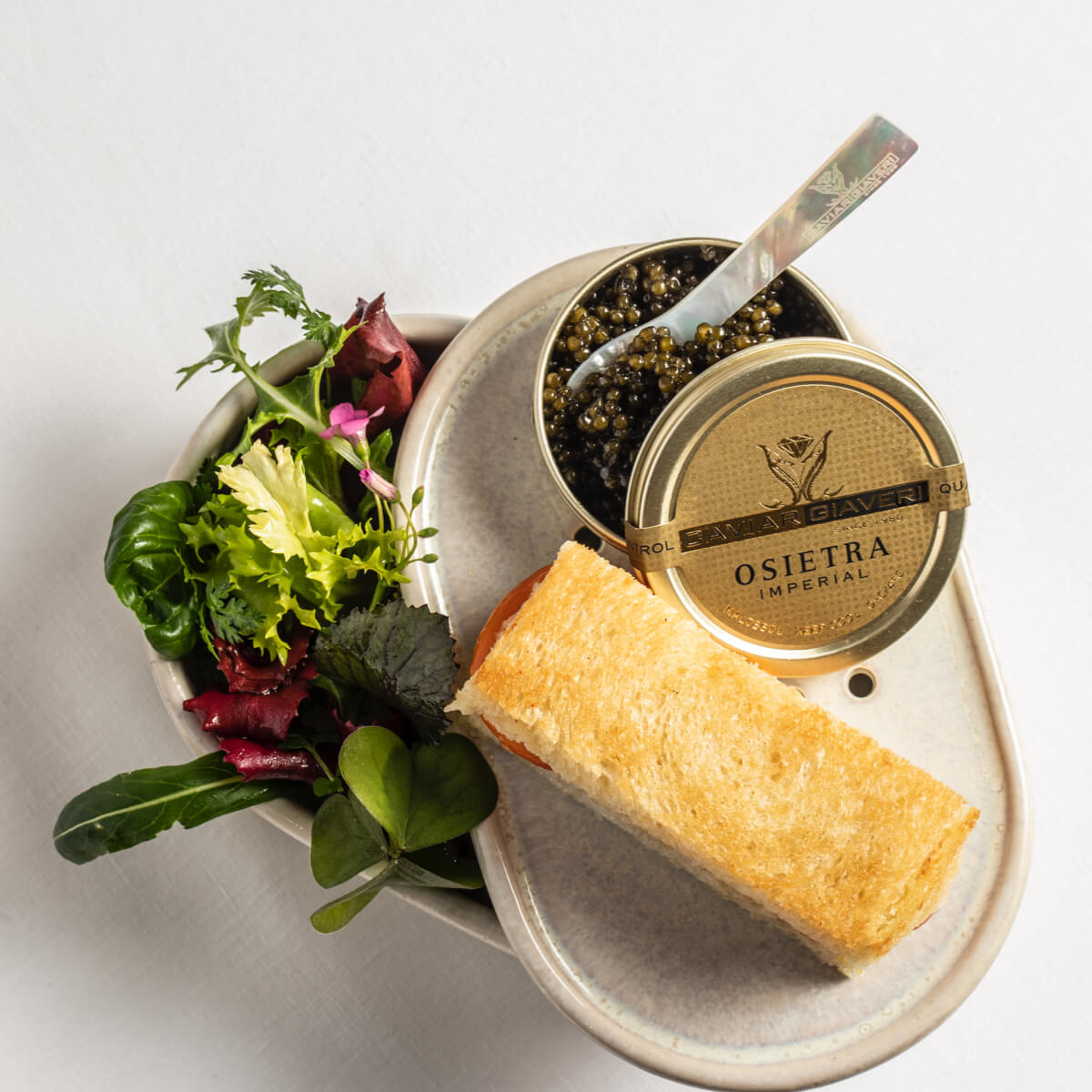 Pierino
Dish

Aperitif

Caviar

Chef

Raffaele Ros
---
A simple, tasty, and fun recipe for an elegant appetizer or aperitif among happy diners: the "Pierino" by Chef Raffaele Ros of the San Martino restaurant in Scorzè (VE).
Artfully toasted bread, egg yolk cooked at low temperature, lemon cheese sauce, and a fresh mixed salad. Our finest Oscietra Classic caviar adds flavor to the dish.
Ingredients
Sliced bread
Fresh eggs
Fresh cheese
Thyme and dill
Salt to taste
Butter
50 ml whole milk
Method
For the sauce
Dice one or more mild and neutral-tasting fresh cheeses of your choice.
In a small saucepan, melt a knob of butter with 50 ml whole milk, a teaspoon of lemon juice, and the cheese cubes over low heat.

Stir constantly with a whisk and melt the cheese evenly over a low flame. Add a pinch of salt, thyme, and dill, and when the mixture is creamy and velvety, remove it from the heat and let it cool.

For low-temperature egg
To cook at low temperatures, we advise using an instrument that allows to keep boiling fluids' temperature constant: the roner.
Place the roner on the side of a pot and set it to 60 °C. Fill the pot with cold water and place the eggs in it.
Turn on the roner and let the eggs soak for 55 minutes from when the set temperature is reached.
When cooked, remove the eggs and cool them in cold water.
Toast or bake the bread slices for about 2 minutes.
When it is well browned, spread a slice of bread with the sauce and stuff with the yolks. Gently close with another piece of bread and serve accompanied by a tin of Oscietra caviar.
---
Discover more recipes
Savor caviar with our recipes featuring it.