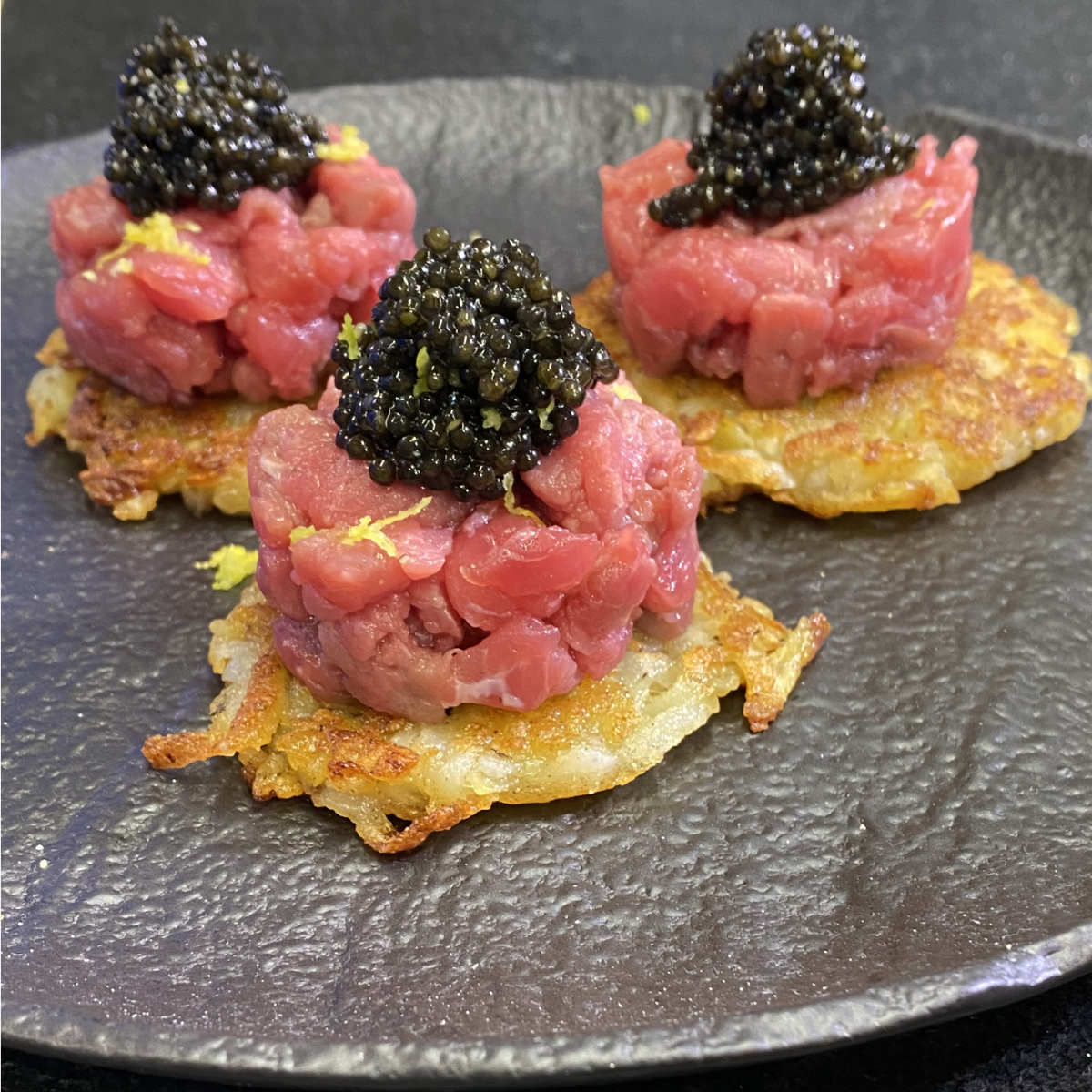 Potato rösti and Fassona tartare
Dish

Second course

Caviar

Chef

David Perisinotto
---
A dish that delights the palate with the softness of the meat and the crispness of the Rösti, both enhanced by the iodized taste and consistent texture of the Siberian Classic caviar.
Ingredients
For the rösti
500 g potatoes
20 g potato starch
Nutmeg as needed
80 g grated 24-month Parmesan cheese
Salt as needed
Pepper as needed
For the Fassona tartare
400 g Fassona beef rumpsteak
Salt as needed
Pepper as needed
Evo oil
Method
Wash the potatoes and place them with their skins in a pot of cold water. From the time they start boiling, cook for 10 minutes. Then drain and peel them while they are still hot. Grate in a bowl with a coarse-hole grater.
Add a sprinkling of nutmeg, potato starch to thicken, and grated cheese that will lend flavor. Add salt and ground pepper.
Form medallions with a pastry cutter by inserting the potato mixture inside and flattening it until fairly compact.
In a hot nonstick pan, melt the butter and brown both sides until golden and crispy.
Take the Fassona rump and, with a sharp knife, cut it into slices, then into strips and finally into cubes. Place them in a bowl, season with salt, a grinding of fresh pepper and 2 tablespoons of evo oil.
Arrange the dish by placing the Rösti. With the help of a small pastry cutter place the meat tartare on top. Garnish with a generous amount of Siberian Classic caviar.
To add extra freshness, grate the peel of an organic lemon.
---
Discover more recipes
Savor caviar with our recipes featuring it.