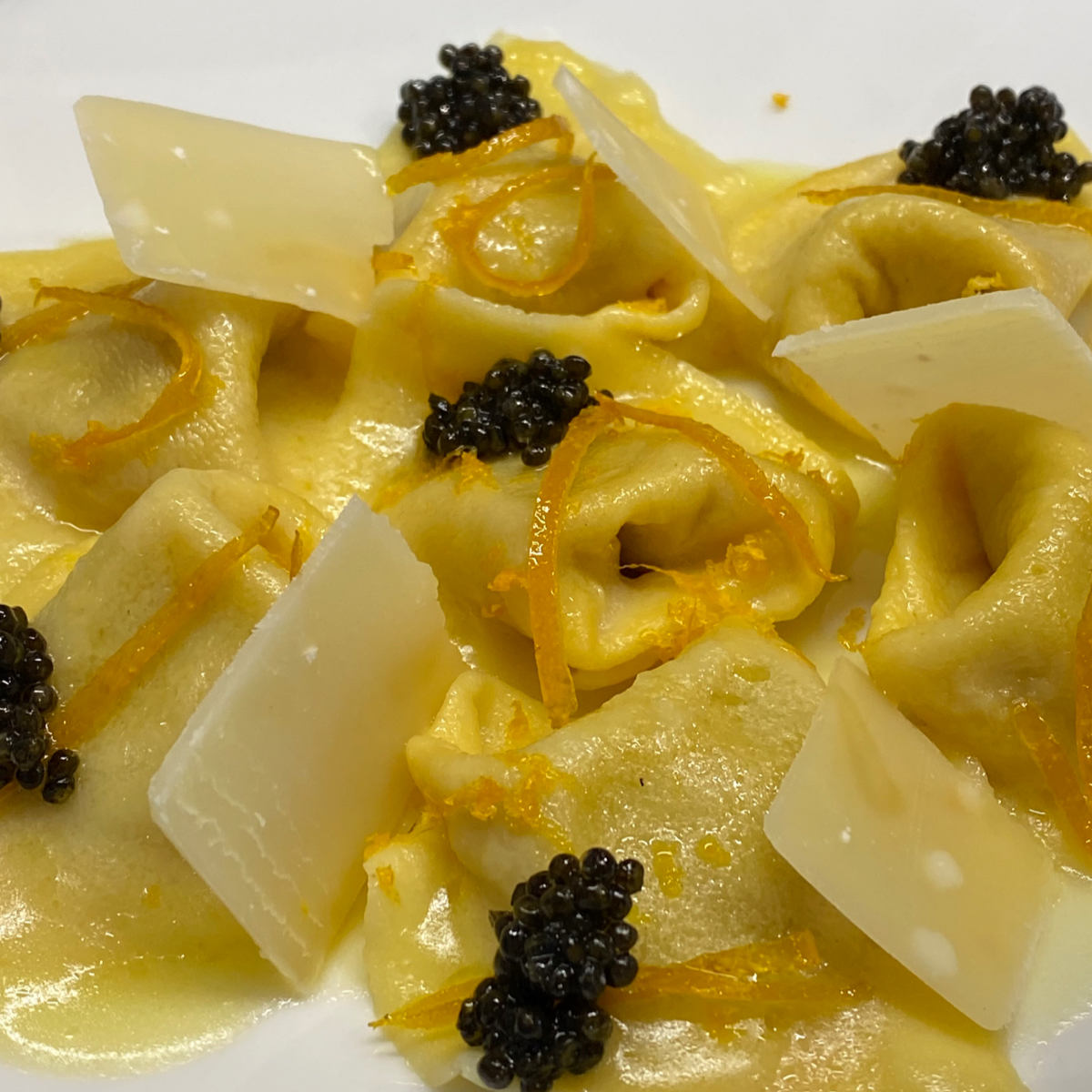 Pumpkin-filled tortelloni with Beluga caviar
Dish

First course

Caviar

Chef

David Perissinotto
---
A tasty first course that captures the aromas of the fall season. Preparing it is simple but the finishing touch of Beluga Siberian caviar will amaze the palate of all diners.
Ingredients
For the fresh pasta
For the filling
50 g delica pumpkin
80 g of Parmigiano Reggiano DOP 24 months
Nutmeg as needed
Salt as needed
Pepper as needed
For the candied orange
1 orange
2 tablespoons acacia honey
2 tablespoons water
Seasoning and garnish
50 g butter
Parmigiano Reggiano Dop shavings
Beluga Siberian Caviar
Method
First cut the pumpkin in half, clear it of seeds, then bake it with the skin in preheated oven at 160° C for 45 minutes. Let it rest, then peel it and reduce all the pulp to a thick cream.
Mix the flour with the eggs and knead until it forms a smooth, homogeneous dough. Cover with plastic wrap and place in the refrigerator to rest.
In a bowl, pour and mix well the pumpkin, grated Parmesan, half grated nutmeg, ground pepper and a pinch of salt. Place the mixture in a pastry bag and let it rest in the refrigerator.
Peel an orange being careful not to include the white part, then cut the peel into julienne.
Place the strands in a saucepan, add a glass of cold water, heat on the stove, and when we see that it starts to boil, drain them.
Repeat the operation 3 times so as to remove the bitter taste. When the last operation is also finished, add to the saucepan along with the orange peels, 1 tablespoon of honey, and 2 tablespoons of cold water. Stem over the stove to melt the sugar, evaporate the water, and caramelize the oranges.
Take the dough and flour it lightly. Start rolling it out with a rolling pin on a work surface or a pasta machine. Then, using a pastry cutter, form 7×7 cm squares. Once they are ready we begin to insert the filling in the center of the square, calculating a fair amount to then close the tortello. Then close the tortello on itself, forming a triangle. Lay it on the index finger of your hand and take the 2 ends and allow them "wrap" your finger.
Once all the tortelli are prepared, dip them in salted boiling water for 1 1/2 minutes. Drain them and transfer into a nonstick pan with the hot butter. If necessary, add a little cooking water to blend.
We begin to plate by placing the tortelli, caramelized orange peels, Parmigiano flakes, and at the end, for each tortello, a teaspoon of Siberian Beluga caviar.
---
Discover more recipes
Savor caviar with our recipes featuring it.