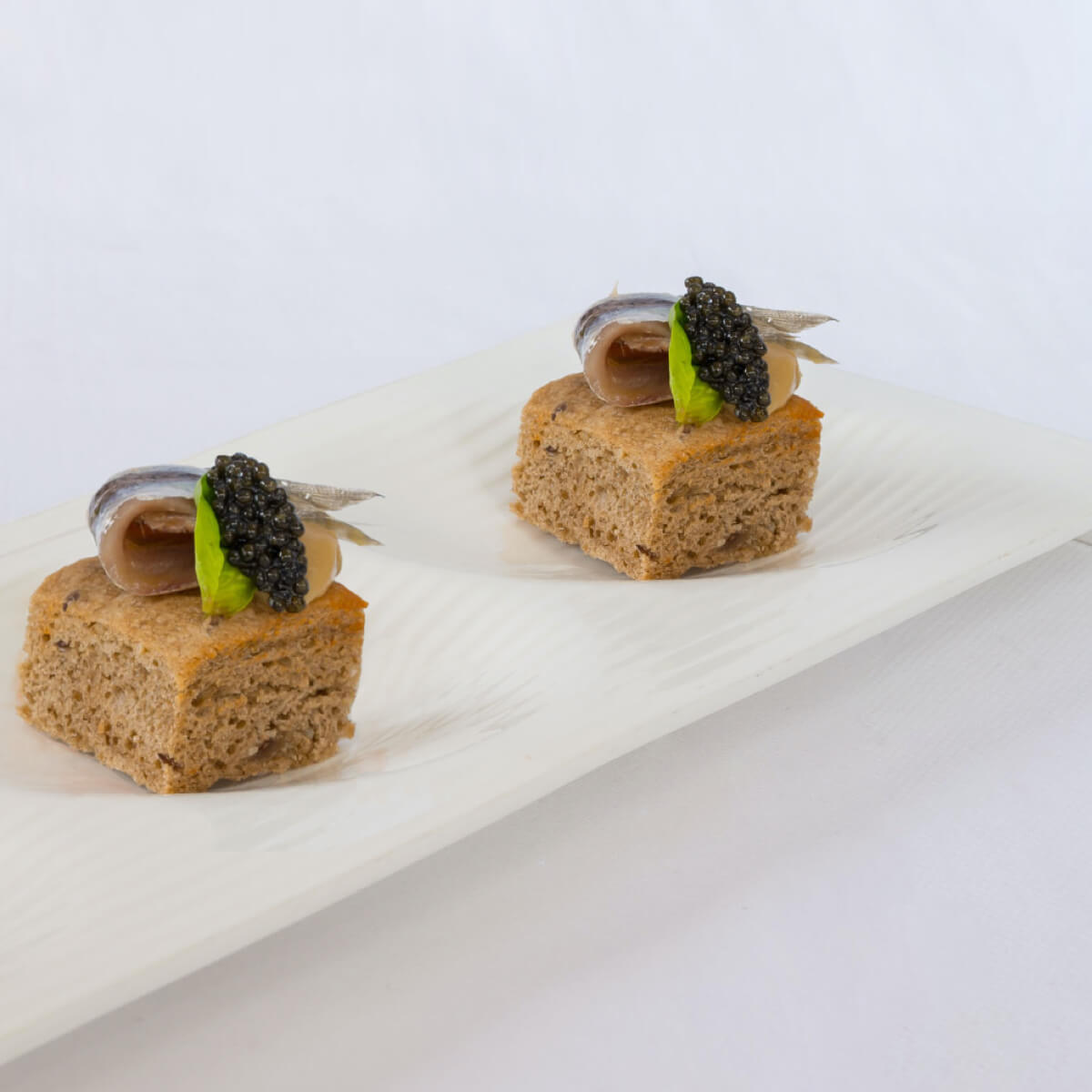 Pumpkin seed focaccia, marinated anchovies and caviar
Dish

Starter

Caviar

Chef

Waldemarro Leonetti
---
Did someone say gourmet focaccia? Impress your diners with this easy recipe with a refined and renowned flavor. An unexpected combination of flavors: focaccia, crispy on the outside and soft on the inside, accompanied by the bold flavor of anchovies in harmony with the fresh, bold notes of Sevruga Imperial caviar.
Ingredients
For 6 people
15 g Sevruga Imperial caviar
500 g marinated anchovies
250 ml white vinegar
Lemon juice as needed
Parsley as needed
Fine salt as needed
Garlic
Evo oil as needed
Chili pepper as needed
For the pumpkin seed focaccia
300 g type 2 flour
200 g type 1 flour
7 g dry brewer's yeast or a 25 g cube of fresh brewer's yeast
2 teaspoons whole-grain sea salt
2 teaspoons brown sugar
6/9 tbsp pumpkin seeds
300 g warm water
Rosemary as needed
Coarse salt as needed
To emulsify
Method
In a large bowl, arrange the flour, add the salt, sugar, yeast, and seeds, and pour the warm water in the center. Knead with your hands for about 5 minutes.
Transfer the mixture to a work surface and knead it well with your hands until smooth and elastic. It takes about 10 to 15 minutes.
Form a loaf by placing it in a fairly large, closed bowl.
Let it rise for about 2 to 3 hours, in a warm place (oven turned off) and free of drafts.
After the time needed for the first rising, generously grease a baking pan (30×40 cm) with evo oil and, after transferring the dough to the baking pan, roll it out with your hands and cover with cling film. Leave to rise for 2 to 3 hours, in a warm place (with the oven turned off) and free of drafts.
After the necessary time, sprinkle some rosemary and coarse salt on the surface of the focaccia.
Prepare the emulsion by pouring the oil and water into a glass and stirring vigorously. Pour the emulsion over the surface of the focaccia with a spoon.
Bake in a preheated, ventilated oven at 180° C for about 25 minutes.
For the marinated anchovies
Clean the anchovies or have them cleaned by your trusted fishmonger.
Open them in half, cut off the head, remove the entrails and bones but leave the two fillets attached. Wash them, pat them dry and lay them side by side in a plastic or glass container.
Adjust the anchovies with very little salt, drizzle well with vinegar so that they are coated but not completely covered. For the vinegar, adjust a little to taste: if we cover them completely we risk having too strong a flavor. After that let them marinate for at least 3 hours, until the inside starts to turn white.
Drain the liquid and dry the anchovy filets well with kitchen paper.
Spread the anchovies again on the bottom of a clean container, such as a glass baking dish, and begin seasoning them. You need plenty of oil, a squeeze of lemon, and chopped parsley. Add also some fresh chili and sliced garlic if you wish.
Repeat the process for each layer until you finish the anchovies. Cover everything again thoroughly with the evo oil, seal the container with foil, and leave the marinated anchovies in the refrigerator to rest for at least a couple of hours before eating.
Cut the focaccia into cubes of your preferred size and stuff with marinated anchovies and Sevruga Imperial caviar.
---
Discover more recipes
Savor caviar with our recipes featuring it.