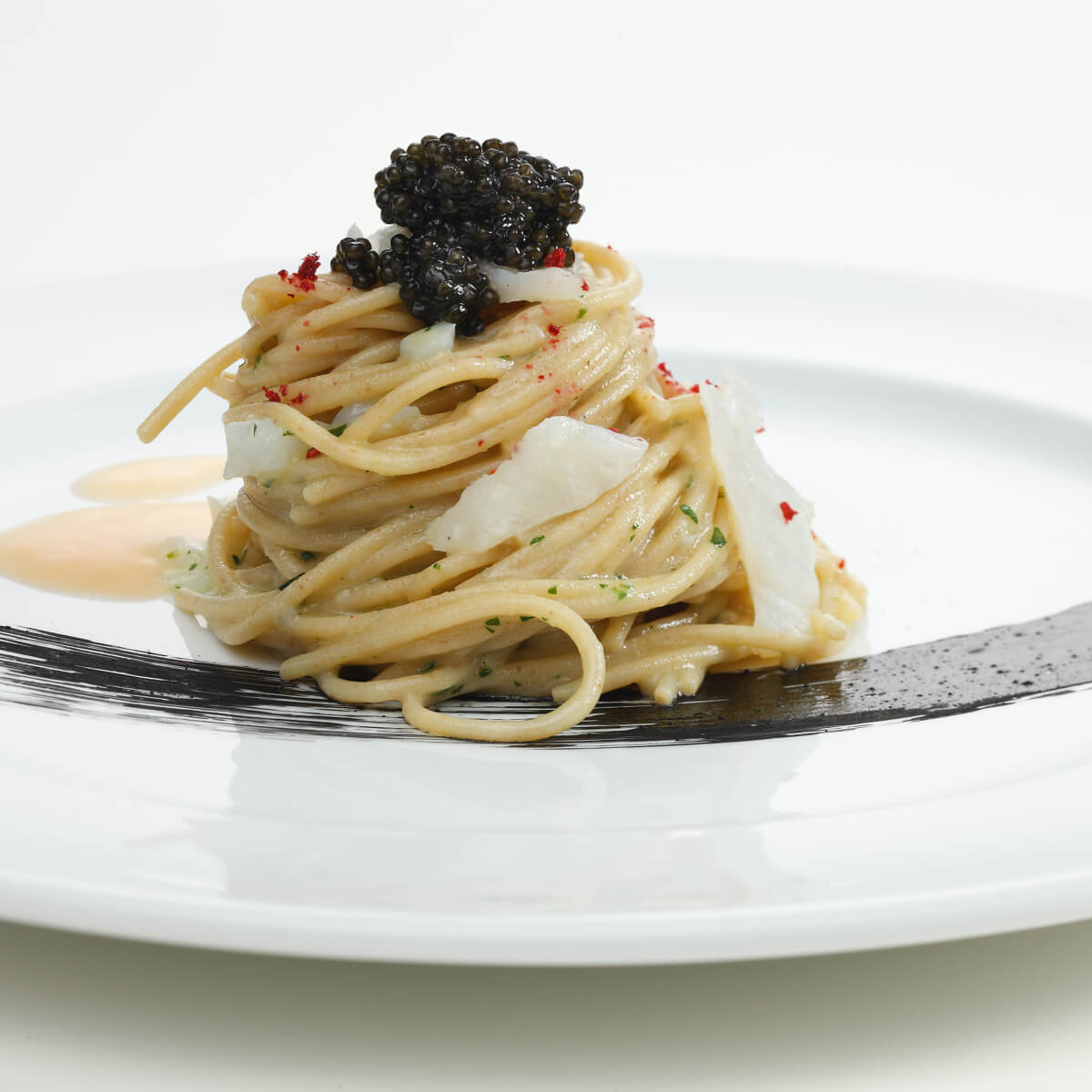 Whole wheat spaghetti and caviar
Dish

First course

Caviar
---
An elaborate dish to put your skills to the test: a prestigious and healthy first course. As always, the finishing touch goes to caviar, in this case, Baerii Heritage, resting delicately on the spaghetti "cone".
Ingredients
320 gr whole wheat spaghetti
Ginger
Parsley
Fresh cilantro
Cornstarch as needed
Evo oil
Soy sauce as needed
80 g bacalao
Squid ink
Fresh tomato for garnish
100 gr Baerii Heritage caviar
Method
Boil the spaghetti in salted water.
For the sauce

Boil in a little water, vinegar, and sugar a nut-sized piece of ginger, previously sliced, along with two branches of parsley and fresh cilantro.

Boil for a minute and then thicken with some cornstarch and evo oil.

Add the soy sauce and keep some of it. Once strained, we will use it to stir-fry the freshly drained spaghetti.
For the bacalao
Peel off the skin, lightly desalt, and vacuum cook in a steamer at 50° C for 12 minutes. Cool and open the bag. Add the bacalao meat to the spaghetti while stirring.

Serve the spaghetti warm, garnishing the dish with squid ink, a few drops of fresh blended and seasoned tomato, and top with a spoonful of Baerii Heritage caviar.
---
Discover more recipes
Savor caviar with our recipes featuring it.