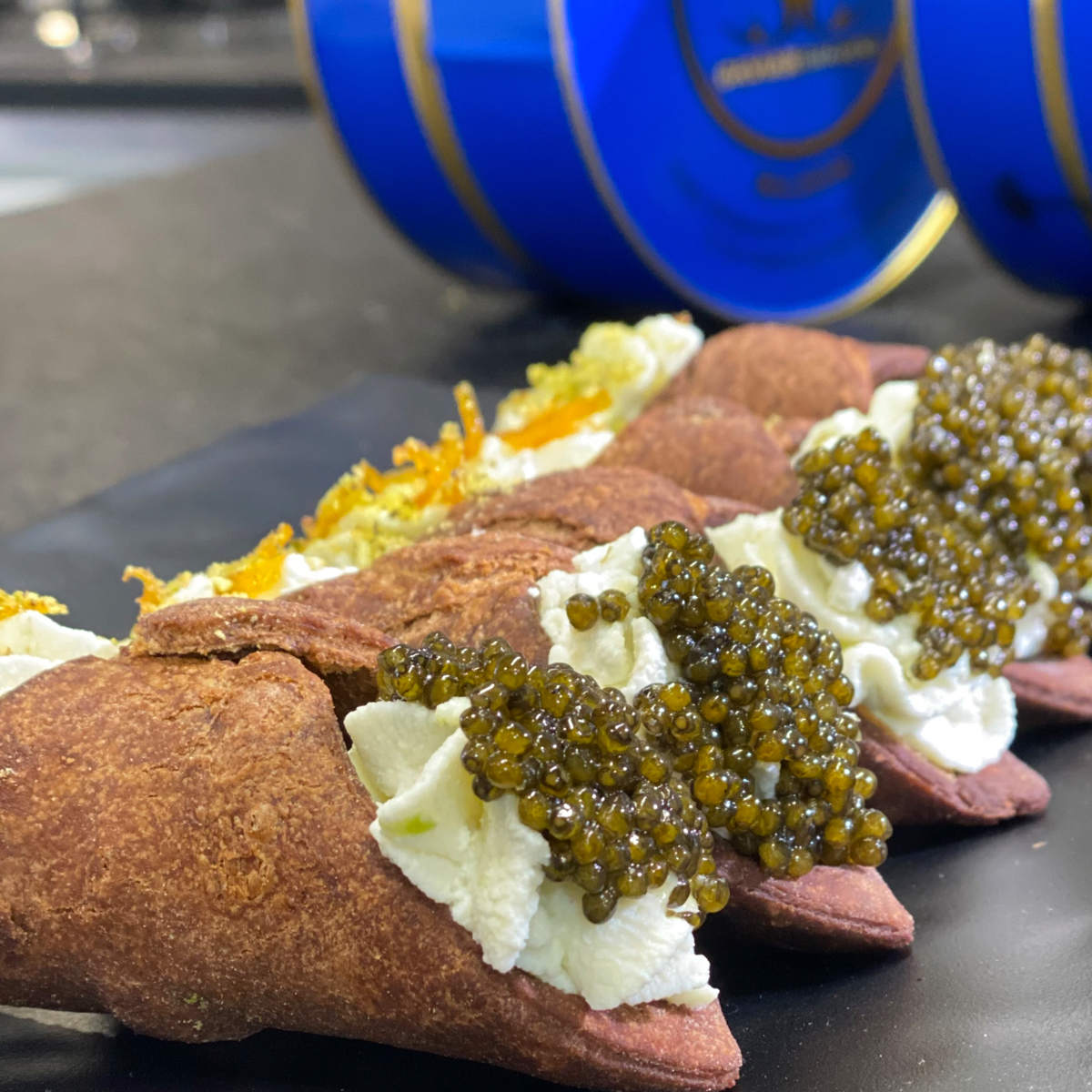 Salty Sicilian Cannoli
Dish

Second course

Caviar

Chef

David Perissinotto
---
In a personal savory take on Sicilian cannoli, the chef finds the perfect pairing with Oscietra Classic caviar, with its crisp, firm texture and unmistakable notes of hazelnut.
Ingredients
For the cannoli
260 g flour
20 g unsweetened cocoa powder
30 g caster sugar
30 g cold lard
50 ml marsala
10 ml white wine vinegar
1 egg
Salt as needed
For the filling
250 g cow's ricotta cheese
1 organic lemon
Salt as needed
1 tablespoon evo oil
For frying
Topping
Candied orange peels
Chopped pistachio
Oscietra Classic Caviar
Method
Pour all the ingredients for the cannoli into a bowl, mix and knead well until you get a smooth, homogeneous ball. Once it reaches the desired consistency, cover it with plastic wrap and let it rest in the refrigerator.
In a bowl sift the cow's ricotta with a fine-mesh sieve so that it is not grainy, add salt, a drop of evo oil and the zest of a lemon being careful not to grate the white part.
Take the cannoli dough, roll it out finely on the work surface with a rolling pin or pasta machine.
Then cut out 7cm by 7cm squares with a pastry cutter.
Once the squares are obtained, place the cannoli molds diagonally across the corners. Then roll the dough onto the mold and brush the ends with egg to seal the closure. You can then proceed to frying in hot oil for about 1 minute. Once cooked (they should come out crispy) drain and dry thoroughly, remove from the molds and allow to cool.
Once cooled, insert the filling into both sides. Then garnish one side with orange zest and pistachio granola and the other with Giaveri's Oscietra caviar.
---
Discover more recipes
Savor caviar with our recipes featuring it.