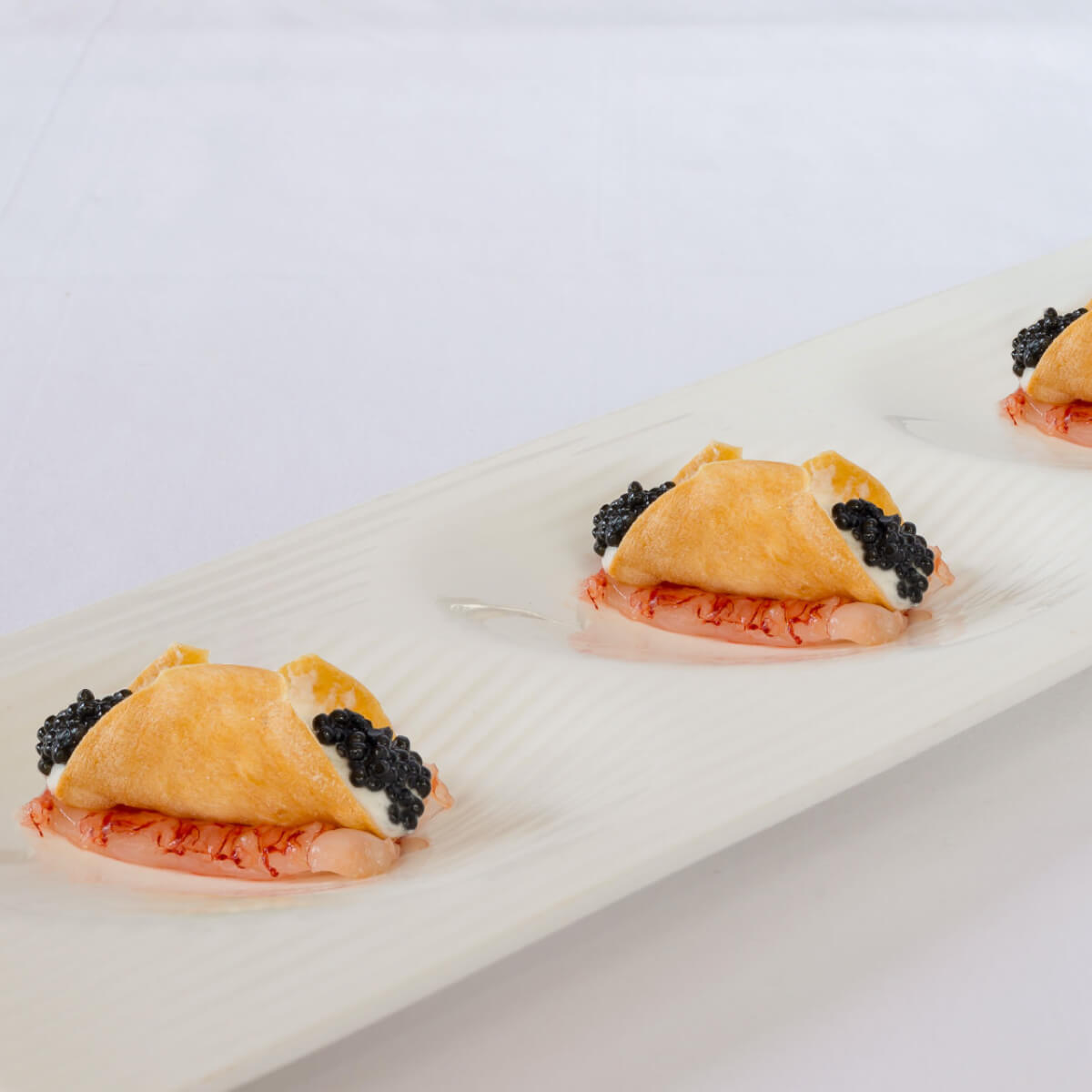 Savory cannoli with basil ricotta cheese, red shrimp carpaccio and caviar
Dish

Starter

Caviar

Chef

Waldemarro Leonetti
---
The savory cannolo, a very famous Sicilian dessert reinterpreted with a modern twist. The sea is the protagonist of this preparation. Thanks to the full flavor of the shrimp carpaccio and the savoriness of the Beluga Siberian caviar, gently laid on the crunchy cannoli, they give off a splendid contrast between textures, flavors and temperatures.
Ingredients
For the cannoli
260 g 00 flour
20 g bitter cocoa
30 g caster sugar
30 g cold lard
50 ml marsala
10 ml white wine vinegar
Salt as needed
1 egg
Seed oil
For the filling
250 g cow ricotta cheese
1 organic lemon
Salt as needed
1 tablespoon evo oil
Basil
Fresh red prawns
15 g per person Beluga Siberian caviar
Method
Place all the ingredients for the cannoli in a bowl, mix and knead well until it becomes a smooth, homogeneous ball.
Once the dough is ready, cover it tightly with plastic wrap so that it does not dry out and let it rest in the refrigerator.
In a bowl, sift the cow's ricotta cheese with a fine-mesh sieve so that it is not grainy, add salt, the evo oil and a grated peel of a lemon, being careful not to scrape the white part.
Mix well and transfer the cream into a sac à poche and place in the refrigerator.
Add chopped basil.
Take the cannoli dough, roll it out finely on the work surface with a rolling pin or pasta maker.
Cut out 7×7cm squares with a pasta cutter (smaller size if you want to make finger food).
Once the squares are obtained, insert cannoli molds in the middle diagonally at the corners. Turn the dough onto them and wet the ends with egg to seal them closed.
Once closed, start cooking them in hot oil for about 1 minute.
Once cooked (they should come out crispy) and drained well, remove the molds and let them cool.
Once cooled, insert the filling into both sides.
Clean the red shrimp. It is preferable to do this by hand: to have a better sense of what to remove and what to leave, what to move and what to tear off.
The heads, for example, will need to be kept aside for an excellent bisque. The suggestion is to wash them before the operation. The dark filaments of the shrimp will also need to be slipped off.
Season with a drizzle of oil and lemon juice to taste, arrange at the base of the plate and lay the stuffed cannoli on top, garnished with Beluga Siberian caviar.
---
Discover more recipes
Savor caviar with our recipes featuring it.