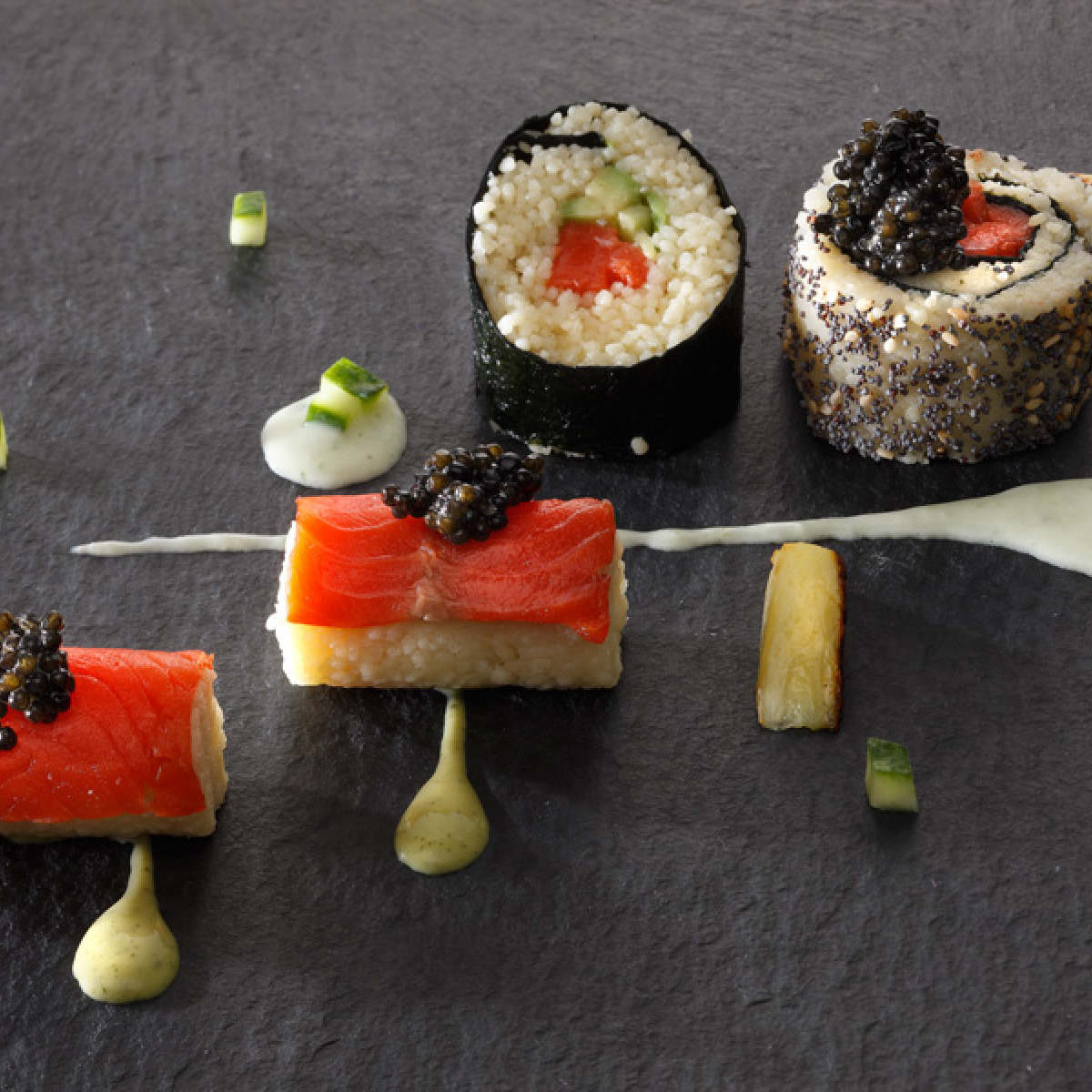 Sushi cous-cous
Dish

First course

Caviar

Chef

Giuliano Lorenzon
---
An ethnic finger food dish that is definitely glamorous and fashionable. Serve on the table with classic "hashi" (Japanese chopsticks), sauces and ginger in traditional small bowls.
Ingredients
300 g cous cous
600 g water
200 g sliced salmon
30 g Sevruga Imperial caviar
2 sheets nori seaweed
1 cucumber
1 avocado
Wasabi paste
Pineapple
1 low-fat yogurt
Salt as needed
Pepper as needed
Evo oil
Sesame seeds
Soy sauce
Fresh mint
Method
Boil the water and cook the cous cous for 5 minutes, making sure to stir continuously.
Blend the yogurt with the mint and some cucumber peel, season and store in the refrigerator.
Roast the pineapple after topping it with salt, pepper and oil. Dice and let it rest in the refrigerator. Moisten the nori seaweed with water and spread some of the cous-cous on top.
Stuff as desired with a little wasabi paste, cucumber, avocado and salmon cut into strips. Roll onto itself, wrap with plastic film like a candy and let it sit in the refrigerator for at least an hour.
Do the same procedure without seaweed but sprinkle the cous cous with black and white sesame seeds, or roll inside out.
Slice the sushi cous cous and serve with pineapple, yogurt and mint sauce, and some soy sauce with wasabi. Arrange the caviar on top of the sushi slices.
---
Discover more recipes
Savor caviar with our recipes featuring it.