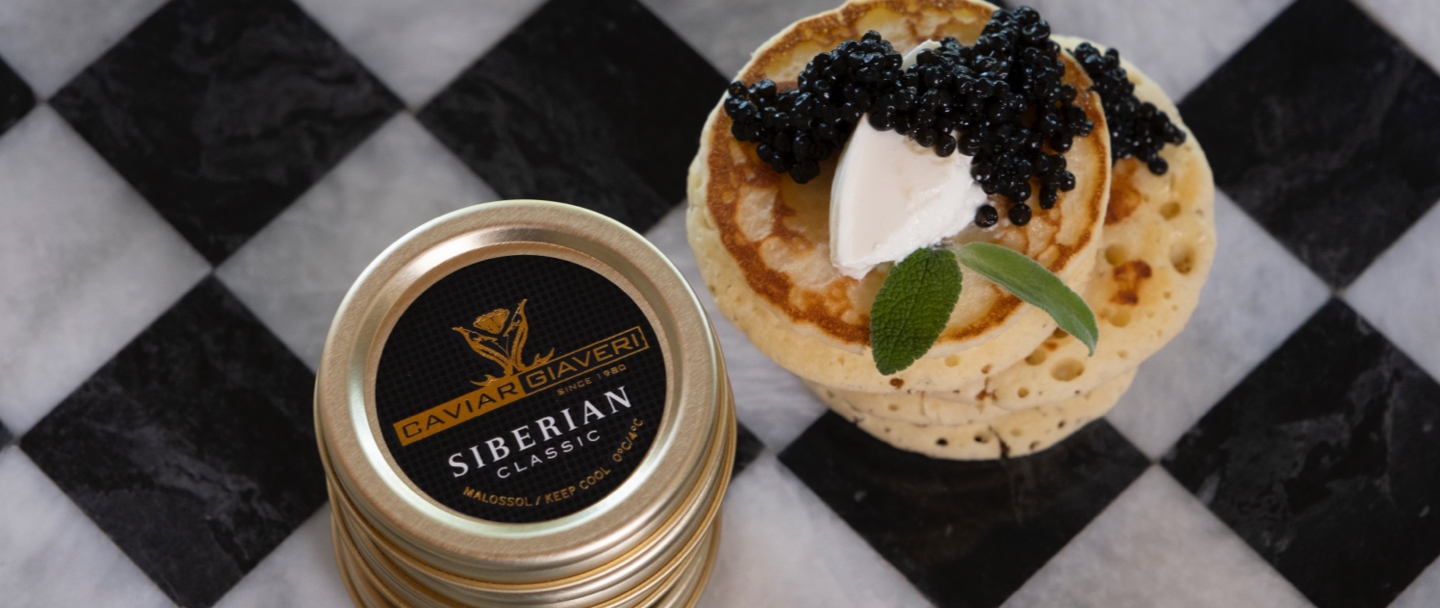 Caviar, fundamental tips
Open the package, close your eyes and enjoy the taste
We often wonder how to enjoy and serve caviar. Such refined food deserves to be the star of the table during social events, as well as during major celebrations and holidays. Likewise, it is ideal for social occasions and romantic and sophisticated dinners.
If you want to find out how to serve caviar, you should know that the most classic pairings see it with champagne, great sparkling wines, or vodka. The origins of these pairings go back to ancient times. In fact, the Greeks and the Romans appreciated caviar, and later, the luxurious courts of the czars of Russia marked the beginning of the famous pairing of caviar and vodka. In European settings, however, more refined palates preferred it with champagne.
So, how to enjoy caviar? Indeed, the ideal way is to savor it pure. This is why Caviar Giaveri recommends using mother-of-pearl spoons instead of steel spoons, as the latter may alter the flavor.
Alternatively, you can enjoy caviar with white bread croutons or blinis spread with a thin layer of homemade butter. You could also use hard-boiled eggs or boiled potatoes, either diced, mashed, or, why not, even whole. These quick and easy caviar recipes will make your table look even more sophisticated. Yet, if you wish, you can try some of the recipes suggested by Caviar Giaveri's chefs.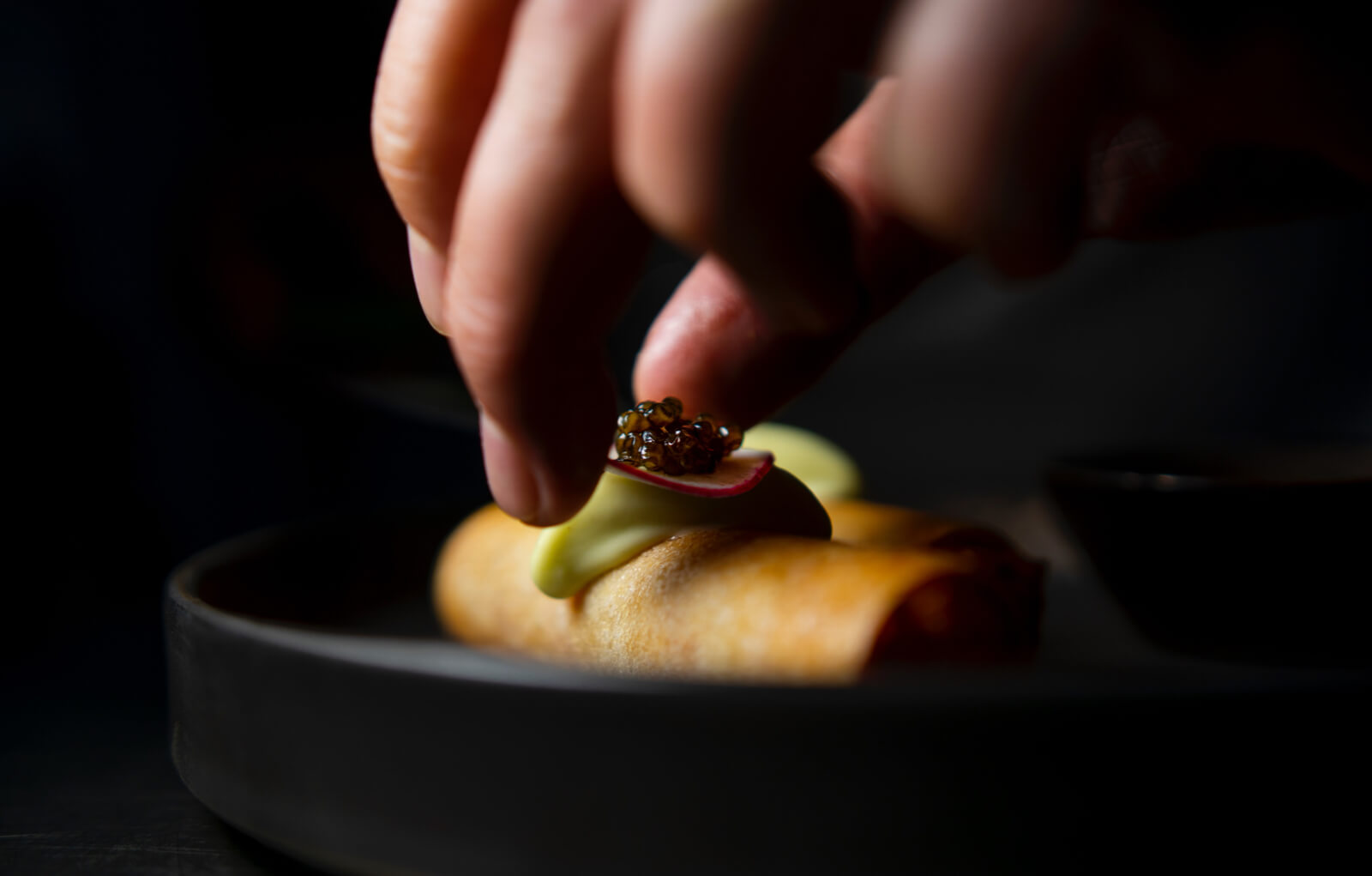 What wine pairs with caviar?
To maintain temperature and preserve the aroma when serving caviar, keeping the product fresh by placing the tin on a bed of ice is essential.
In its different varieties, caviar can be paired with a range of wines, but Caviar Giaveri recommends sparkling wine. The important thing is the perlage, which should facilitate the combination with the butteriness conveyed by the precious eggs.
Iodinated notes that evoke the salty air of the sea are distinctive in caviar. Siberian and White Sturgeon Deluxe caviar are the most versatile. As the persistence increases, so does the prestige. Then there's the Oscietra Heritage caviar, which moves us away a bit from the sea and into a more complex and refined mix of flavors. In fact, when enjoying this caviar, you will also detect dried fruit aromas such as hazelnut and walnut. We then reach the most intense taste with Sevruga Imperial caviar. This variety of caviar allows you to perceive all the flavors of the sea with a strong reminder of oysters. But the most intricate caviar variety of all is the Beluga Imperial and Beluga Siberian. These two varieties feature velvety and silky textures and a rich olfactory and taste bouquet, ending with buttery notes distinguished by refined elegance.
This excursus among the flavors of sturgeon eggs to answer the question: which wine goes best with caviar? Well, for caviars with a more prominent taste, such as Oscietra and Sevruga, Caviar Giaveri recommends pairing them with classic wines. These are wines with particular structure and complexity, able to cope with caviar's long and inimitable persistence.
To enjoy Beluga caviar at its best, however, you can't go wrong by bringing to the table a timeless blanc de blancs of extreme finesse, elegant, with a present and subtle sparkle. Discover our entire caviar collection and try your own pairings!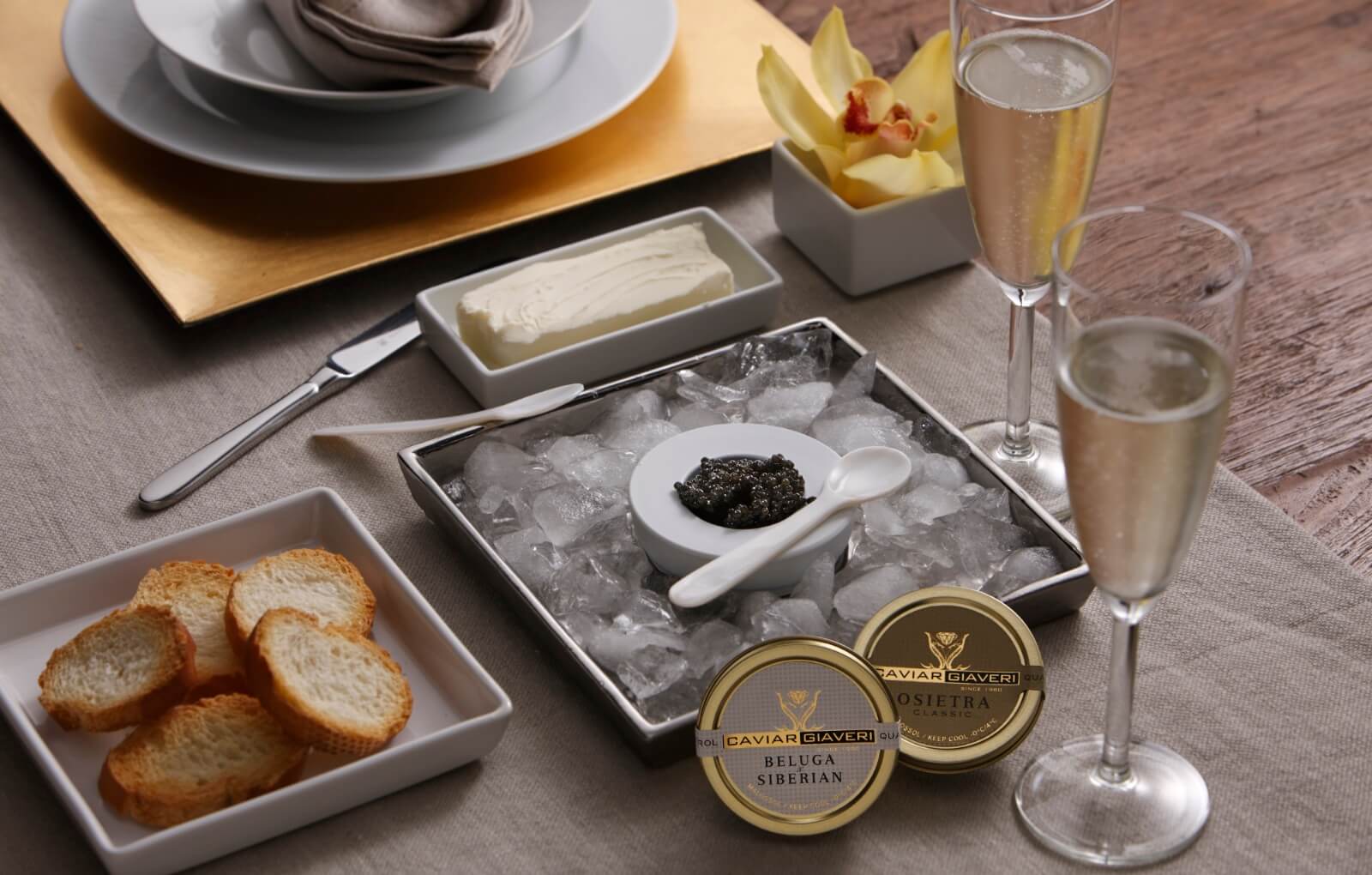 Mise en place: how to create the right atmosphere on the table for serving caviar
It is the eye that enjoys caviar first. That's why creating an appropriate setting that draws guests' attention is essential, inviting them to an exciting and unforgettable experience. Caviar will immediately become the star of the table, making it refined and exclusive. Its delicate flavors and freshness deserve special attention in the mise en place.
When thinking about how to serve caviar, we often wonder how much is appropriate for each diner. It is good to know that we can share a 100 g tin with 4 people. But, if we want to be more thoughtful with our guests, the ideal amount of caviar suggested is at least 30 g per person.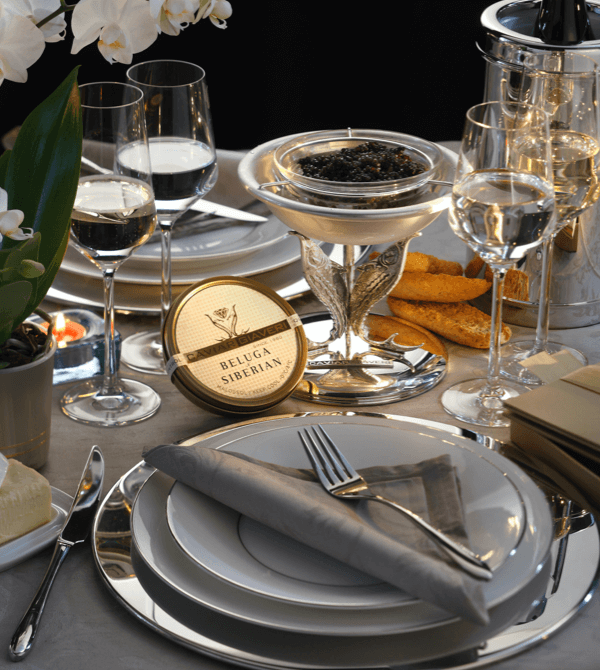 The perfect caviar tasting: how to use the back of your hand
The most classic of rituals involves placing the caviar on the back of the hand, between the thumb and forefinger, and tasting it naturally, without any accompaniment. The hand transfers the right amount of heat, allowing the caviar to bring out its aroma and flavor. This technique is called Caviar Bump, nowadays a widely used practice for tasting caviar.
This allows the full essence of this ancient but still undiscovered food to be captured.