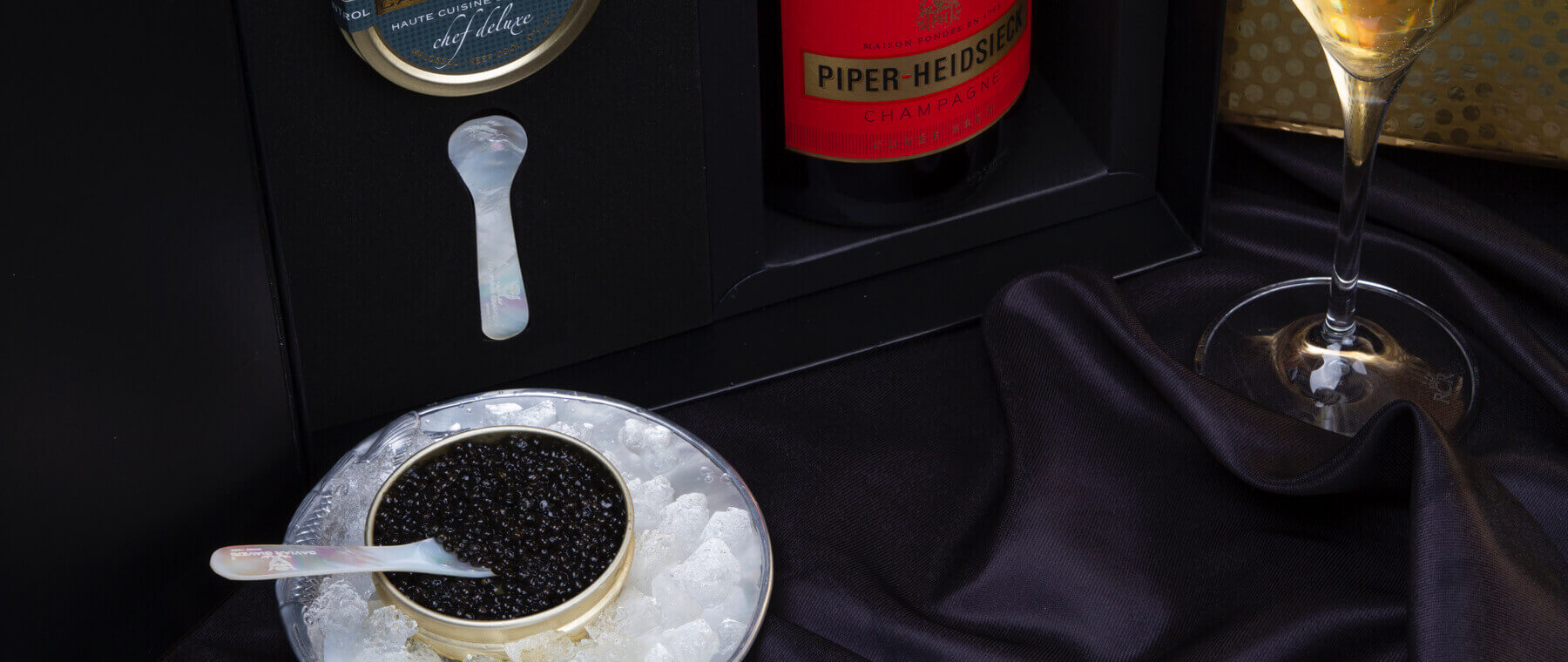 Golden Box Marilyn Monroe
For a celebrity tasting experience
---
Golden Box Marilyn Monroe
A fine gold box containing our iconic caviar trilogy dedicated to Hollywood diva Marilyn Monroe who loved Piper-Heidsieck champagne. Her famous quote ended like this: "I go to bed with two drops of Chanel No. 5 and wake up every morning with a glass of Piper-Heidsieck".
The product will arrive at your door with a 90-day expiry date.
Our attention to the freshness of caviar starts with its transportation. We have implemented a shipping solution that uses special styrofoam packaging with refrigerated glacettes to maintain a controlled temperature throughout the journey. The result? Fresh products, as if they were just purchased in our store.
Delivery is always free for any purchase in Italy. For Europe, shipping is free of charge on orders exceeding €300. We preferably ship on Mondays, Tuesdays, and Wednesdays to ensure delivery within the following 48 hours of order fulfillment notification and optimal product storage. We entrust our shipments to selected express couriers for food transportation.
We are committed to making every order you place an unforgettable experience. Each product is carefully and meticulously hand-packaged. Whether you are purchasing for yourself or someone else, our distinctive included gift box adds a touch of class and sophistication to make every moment even more special. Add your message and personalize your order!
---
What's inside
​​1 × Beluga Siberian Caviar 50 g
​​1 × Oscietra Classic Caviar 50 g
​​1 × Siberian Classic Caviar 50 g
​​1 × Champagne Piper Hiedsieck 0,75 l – Brut
​​1 × Mother-of-pearl spoon
​​1 × Tin key
Discover the gift set
The Marilyn Monroe Golden Box is a luxurious box containing 3 different varieties of caviar to enjoy together with a bottle of Piper Heidsieck Cuvée Brut champagne, characterized by fine, persistent perlage and citrus notes with hints of pear, almond and hazelnut.
In the gift set you will find a tin opener and a mother-of-pearl spoon.
Caviar selection
The gift box includes 3 types of caviar: Siberian Classic caviar, eclectic and with a well-defined taste, easily used in the kitchen as it pairs well with versatile ingredients. Oscietra Classic caviar featuring identical, bright, crispy beads with an enveloping and balanced flavor that releases pleasant nutty notes. And Beluga Siberian caviar characterized by its typical large, buttery eggs with a firm texture.
*To purchase alcohol, you must be at least 18 years old. We reserve the right to cancel the order if the information received does not meet this requirement.