Eco-sustainability of farmed caviar
Sturgeon is currently one of the endangered species included in the Washington Convention, and its breeding and marketing are protected by CITES (Convention on International Trade in Endangered Species of Wild Fauna and Flora).
The most crucial stage for obtaining good caviar is during the growth of the fish, when the balance of the species must be respected, and the environment where the specimens live must be as similar as possible to the natural one. Therefore, sturgeon farming is a valuable support to preserve this species and repopulate our rivers where a native sturgeon once lived and disappeared many years ago.
Caviar Giaveri breeds 10 different species and is currently the most diverse sturgeon farm in the world.
The farm covers an area of more than 15 hectares, on which there are more than 100 tanks accommodating this unique variety of species: Acipenser gueldenstaedtii (Russian Sturgeon), Acipenser baerii (Siberian Sturgeon), Acipenser stellatus (Starry Sturgeon), Acipenser transmontanus (White Sturgeon), Acipenser persicus (Persian Sturgeon), Acipenser ruthenus (Sterlet Sturgeon), Acipenser ruthenus albino (Sterlet Albino Sturgeon), Huso huso x Acipenser baerii (Beluga x Siberian), Huso huso x Acipenser naccarii (Beluga x Adriatic), Huso huso (Beluga).

In fact, Caviar Giaveri is a sustaining member of the World Sturgeon Conservation Society. The World Sturgeon Conservation Society is an international association of scientists, and its purpose is to preserve existing sturgeon populations worldwide.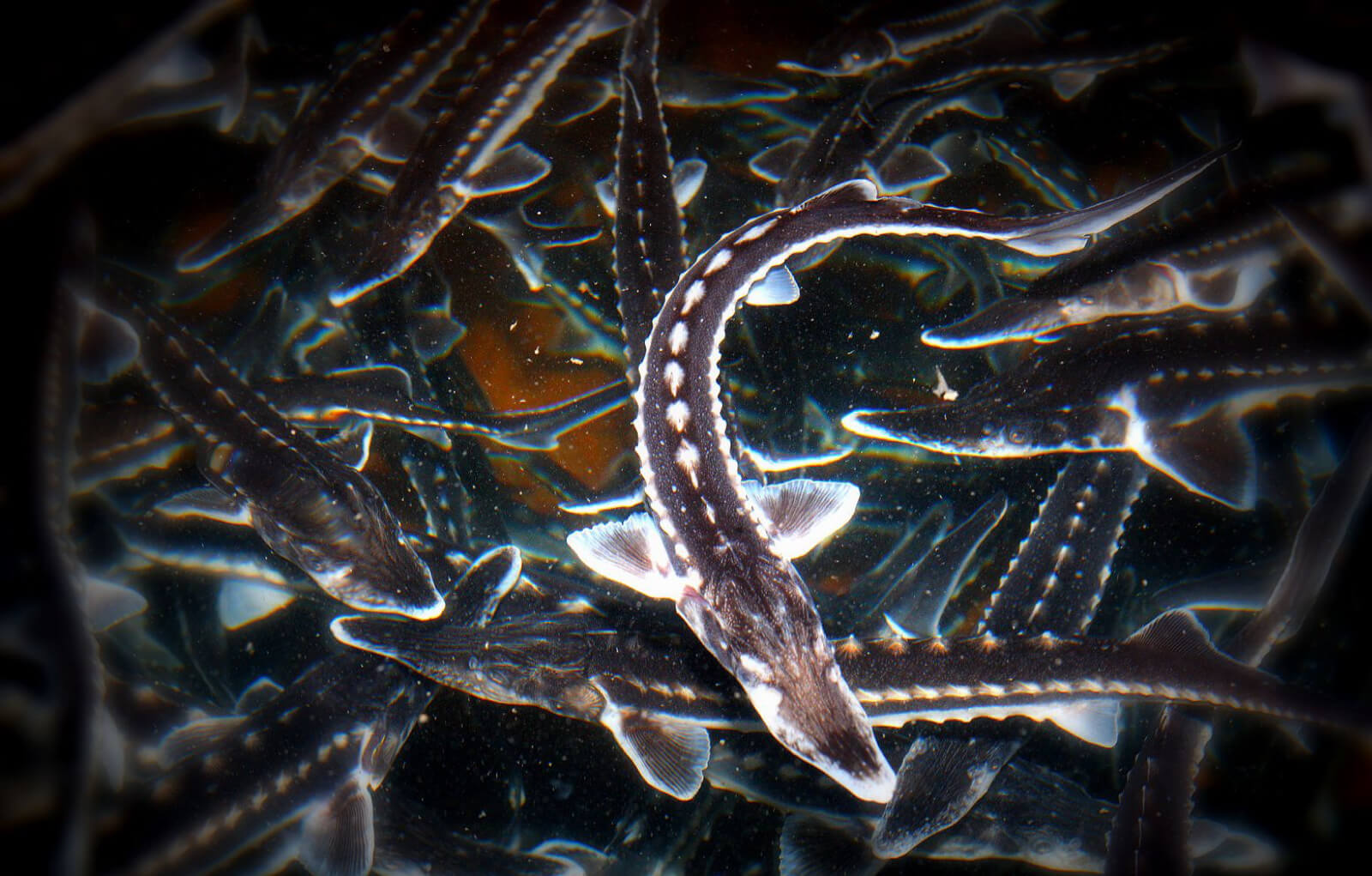 The society pursues this goal by encouraging sturgeon research, conducting workshops and conferences, promoting the exchange of sturgeon-related information among scientists and politicians, and informing the public about sturgeons. Caviar Giaveri has also been an API member for more than 30 years.
The "Associazione Piscicoltori Italiani – API" (Italian Fish Farmers Association) has been working alongside Italian fish farmers since 1964 as the highest professional body in its category. Its purpose is to protect, develop, and consolidate all fish farming activities in inland, marine, and salt waters. The Association promotes all interventions in the economic, scientific, technical, insurance, professional, labor union, and legal fields necessary to achieve this goal.
There has always been a solid commitment to making the production process more environmentally friendly, saving energy and water resources by using certified power from renewable sources: an important responsibility choice towards the planet and future generations.
The approach taken with respect to the sustainability principles makes Caviar Giaveri a totally "green" company. The activity is carried out with rigorous respect for nature, with particular attention to the integrity of natural environments, which began with the founder and, carried on to this day, with the use of water that flows directly within the property to ensure the well-being of the sturgeons and the organoleptic quality of the products.
Modern aquaculture technologies allow the sustainability of facilities and the preservation of the beautiful animal that is the sturgeon, where specimens live very similarly to the wild.